Sentiment rebound favors rotation towards value
Sentiment rebound favors rotation towards value
Tuesday 10 December 2019
Global Investment Views, Fixed income, Equity
Download the Complete December Global Investment Views
Contributing Authors
Pascal Blanqué
Group Chief Investment Officer,
Amundi

Vincent Mortier
Deputy Group CIO,
Amundi
In recent weeks equities rallied along with bond yields as investors reacted to the prospect of a US-China 'phase one deal' and fading global recession fears. The value of negative yielding bonds continued to fall, from $17 trillion over the summer to the current $12.5 trillion. While equities were previously overshadowed by the excessive gloominess on the global economy and earnings, markets rebounded after corporate results in the US and Europe met or exceeded low expectations, and as economic data did not show any material worsening. The mantra now seems to be 'not so bad is the new good.'
On the economic front, the picture is mixed, but some stabilization is in sight. The manufacturing outlook remains weak in developed markets (DM), however resilient emerging markets (EM) growth is supporting the global economy. The service sector has been robust almost everywhere and we don't see any major concern on the US consumer front, the main engine of US growth. In our previous editions, we highlighted our view that global recession fears were overdone and we maintain that stance. From a geopolitical perspective, the situation is tricky in many parts of the world, such as Latin America and Hong Kong, but there is good news in Europe, where the risk of a no-deal Brexit has receded. Investor sentiment is finally turning more positive for Europe after very difficult years.
Overall, the following themes will play out for investors going into 2020:
Fixed income investors will have to deal with opposing forces on the direction of interest rates. Central Banks are restoring some sort of QE. This could limit the potential upside in bond yields. On the other hand, there is already fiscal policy noise in the market and this will continue to grow next year. This could put upward pressure on rates, which will likely start pricing a "fiscal option". Given these diverging forces, we could see a stabilization in rates, with some possible short-lived overshooting. As a result, active and flexible duration management is important. In credit, an easing environment could give rise to asset price bubbles and may push investors to illiquid/low quality assets in their search for yield. Investors should be mindful of highly indebted companies and speculative sections of the market. A focus on balance sheet strength, bottom up selection and liquidity risk will be crucial.
A stabilization of interest rates could also affect stock prices as additional support from lower yields fades. If earnings growth remains flattish, we would not expect to see a material upside in stock prices; instead a rotation of themes in equities could provide compelling opportunities. Growth stocks have dominated value stocks and the ratio of growth versus value has reached excessive levels. A stabilization of rates could drive a rotation in favor of value. Beaten-up sectors such as EU banks and autos may also benefit. Europe would gain from this rotation as it is predominantly a value market.
Finally, another area of opportunity for investors will be emerging markets. Accommodative monetary policies, due to expanding Fed balance sheet and the ballooning US fiscal deficit, point to a weaker dollar. This would be good news for EM debt and currencies in 2020. Some stabilisation in earnings, amid a rebound in economic growth, would also benefit selective EM equities.
As we approach year-end, the situation is better than it was in the summer, with a persistence of the bull market in risk assets. We continue to believe that the probability of a consumer-led recession is low but investors should aim to preserve this year's performance. However, markets have already priced in most of the good news, and would need something else for the bullish sentiment to strengthen further. In the short term, investors should play this renewed sentiment improvement, especially in Europe and EM, but also prepare for a more tricky phase in which markets will take a sanity check of global economic conditions. The main risks, in our view, will not come from the economic side, but from deteriorating fundamentals in some pockets of the credit market, which could potentially trigger a sell-off. Investors should bear in mind that in this cycle credit spreads are more sensitive to a miss in economic growth targets given the high liquidity risks.
Fixed Income: Credit remains the key engine of returns
Contributing Authors
Eric Brard
Head of Fixed Income, Amundi

Yerlan Syzdykov
Head of Emerging Markets,
Amundi

Ken Taubes
Chief Investment Officer, US,
Amundi Pioneer
We are witnessing a stabilization in global growth supported by the positive news flow around consumption and geopolitical issues such as the trade war and Brexit. However, these issues have not completely vanished, and could bring some volatility back to the market as activity is fading as we close in on year-end. Supportive technicals and continued monetary easing (although the easing cycle could lose momentum) offer a favorable environment to exploit carry. It is not yet time to be conservative in credit, but investors should continue to focus on liquidity and selection and be mindful of any signs of further economic slowdown.
DM bonds
In global fixed income, while keeping a neutral overall view on duration, we continue to prefer the US to Europe (more negative on Germany) and Japan, and we are less positive on duration in the UK. The Bank of England (BoE) will now wait for the elections and Brexit before taking any action on rates. Accordingly, we believe the UK curve steepening will not happen. In the EU, we keep our flattening position in place. We maintain a positive view on the main peripheral European countries as the QE programme has restarted, but have adjusted our view in both Italy (more constructive) and Portugal (less positive), while favouring long dated bonds in Spain. The search for yield continues in US and EUR IG (should benefit from QE) but we are slightly more positive on the US than before. The EUR HY space is also attractive, unlike US HY, but we remain watchful for any idiosyncratic risks.
In the US, the yield curve has finally steepened amid solid US employment and consumer spending data. The Fed may test markets by seeing how strong the economy can become and how low unemployment can go before igniting inflation expectations. The FOMC feels that the cuts taken this year are sufficient and therefore additional rate cuts are unlikely. At the same time, given the FOMC's willingness to allow inflation to overshoot its target, rate hikes also seem implausible.
In US credit, we prefer to play upon sector rotation and security selection across a broad range of sectors. Specifically, we like consumer-oriented sectors such as structured securities, including both agency and non-agency RMBS. These assets are less exposed to a risk of economic downturn and are spurred by a strong US consumer sector and lower mortgage rates. On the corporate side, while valuations are a bit expensive, the default outlook remains benign and fundamentals are relatively stable. Here, we advise watching leverage levels for IG corporates.
EM bonds
We maintain a constructive view on hard currency debt as valuations and technicals both look strong. We prefer HY credits as spreads have lagged their IG counterparts. EM local rates also look attractive, although we are slightly more cautious given the strong performance YTD and less compelling valuations. We are less negative on EM FX, given the slight improvement in the global growth outlook, prospects of a trade deal, and the Fed's balance sheet expansion. But EM FX remains for the time being our least preferred asset class given its sensitivity to global growth.
FX
We have a neutral view on the US dollar: arguments that the USD could have peaked are appearing (i.e. fiscal deficit). In Europe, we are constructive on NOK vs SEK, given the Norges Bank's hawkish stance, and neutral on the GBP.
Equity: Time for 'value' investing is ripe
Contributing Authors
Kasper Elmgreen
Head of Equities, Amundi

Yerlan Syzdykov
Head of Emerging Markets,
Amundi

Ken Taubes
Chief Investment Officer, US,
Amundi Pioneer
Overall assessment
The reducing risk of a no-deal Brexit and the progress on US-China trade talks have supported equity prices over the past month. European equity is the favoured market at the moment as tail risks have reduced and economic indicators may start stabilising, although at low levels. However, if trade tensions escalate, US equities could offer better risk-adjusted returns. Globally, the disconnect between growth vs. value should offer opportunities due to extremely depressed valuations in the latter. We believe that a rotation to value will be the key theme for equity investors in 2020. This rotation could also benefit Japanese equities, given their strong fundamentals. Income from equity dividend will also be key, in a world of ultra-low interest rates.
DM equities
After material outflows from EU equities, we are finally seeing some inflows. As market positioning is very light, there is still some room to see investor sentiment improving towards this asset class. Overall returns are likely to be lower than in the past (due to a "normal" market multiple and lower economic growth) and with high volatility, but the sentiment seems finally turning in favour of Europe. In particular, market rotation from the expensive areas of 'growth' to cheap 'value' stocks could provide investment opportunities. A reversal in bond yields and an improvement in the trade war situation would support this rotation. Cyclicals vs. industrials also looks attractive, due to low implied expectations. From a sector perspective, health care and telecoms provide some degree of protection while bond proxies such as utilities and consumer staples remain expensive. Finally, innovation and business model disruption will drive returns in areas including media, automotive, business services and retail. In the US, earnings were better than feared, leading the S&P 500 to reach new highs. Consensus expectations for 2020 are too optimistic and modest downward revisions should not pose major risks. However, indicators for earnings are improving, driven by strong top-line growth and manageable wage inflation. At a style level, now is a good time for value vs. momentum/low beta stocks as the former could benefit from any reacceleration in the economy and improving fundamentals. The cyclical part of value is also attractively priced. In addition, opportunities exist in growth, particularly on the technology side. On the other hand, we believe, low-beta sectors such as utilities have excessive valuations and very low free cash flow yields. We are positive on communication services, financials and consumer discretionary, but are cautious towards energy and information technology.
EM equities
In EMs, we are moderately more constructive on equities in light of expectations of a more stable economic growth in the region in 2020, the continuation of global monetary easing by central banks and some optimism about a trade deal. On top of that, EM equity valuations remain attractive vs. developed markets and the technical backdrop is supportive of the asset class. Nevertheless, downside is still possible given the risks surrounding global geopolitics, and therefore we expect volatility to persist. We prefer domestic consumption countries (Brazil, Indonesia, Russia and India) and stay defensively positioned on countries where there is political noise.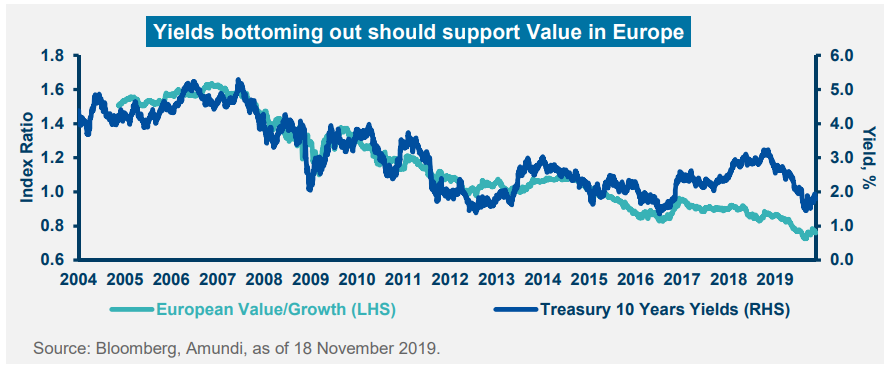 Important Information
Unless otherwise stated, all information contained in this document is from Amundi Pioneer Asset Management ("Amundi Pioneer") and is as of November 26, 2019.
The views expressed regarding market and economic trends are those of the authors and not necessarily Amundi Pioneer, and are subject to change at any time. These views should not be relied upon as investment advice, as securities recommendations, or as an indication of trading on behalf of any Amundi Pioneer product. There is no guarantee that market forecasts discussed will be realized or that these trends will continue. These views are subject to change at any time based on market and other conditions and there can be no assurances that countries, markets or sectors will perform as expected. Investments involve certain risks, including political and currency risks. Investment return and principal value may go down as well as up and could result in the loss of all capital invested.
This material does not constitute an offer to buy or a solicitation to sell any units of any investment fund or any service.
Date of First Use: November 26, 2019.