Value dislocation could reverse amid a cyclical rebound
Value dislocation could reverse amid a cyclical rebound
Wednesday 08 January 2020
Investment Talks, Perspectives
Contributing Authors
Kasper Elmgreen
Head of Equity

Andreas Wosol
Head of Value
When we look fundamentally at the risks and rewards in equity markets for 2020, we find that value offers better opportunities than growth as implied expectations are lower and therefore more attractive for value at this point. The performance of value vs growth has been on a downward trend for a long time, almost 13 years. In our view, the rotation towards value that started in September 2019 is likely to continue in 2020. European equities will benefit from this rotation; Europe is a value market as it is more skewed towards the traditional value sectors of financials, telecoms, mining and utilities, while being underweight in the hyper-growth segment of information technology (IT). In the past, rotations from growth to value have been more pronounced in Europe than the overall global market (see Fig. 1).
We think that support for the continuation of this trend will come, first of all from a cyclical rebound at a time of extreme undervaluation of value vs growth.
Manufacturing PMI bottoming out
In the long downtrend of value's underperformance there have been three periods of rebound: 2009, 2013 and 2016. All of these occurrences were supported by a top-down fundamental improvement in the economic momentum, with rebound in the PMI indicators.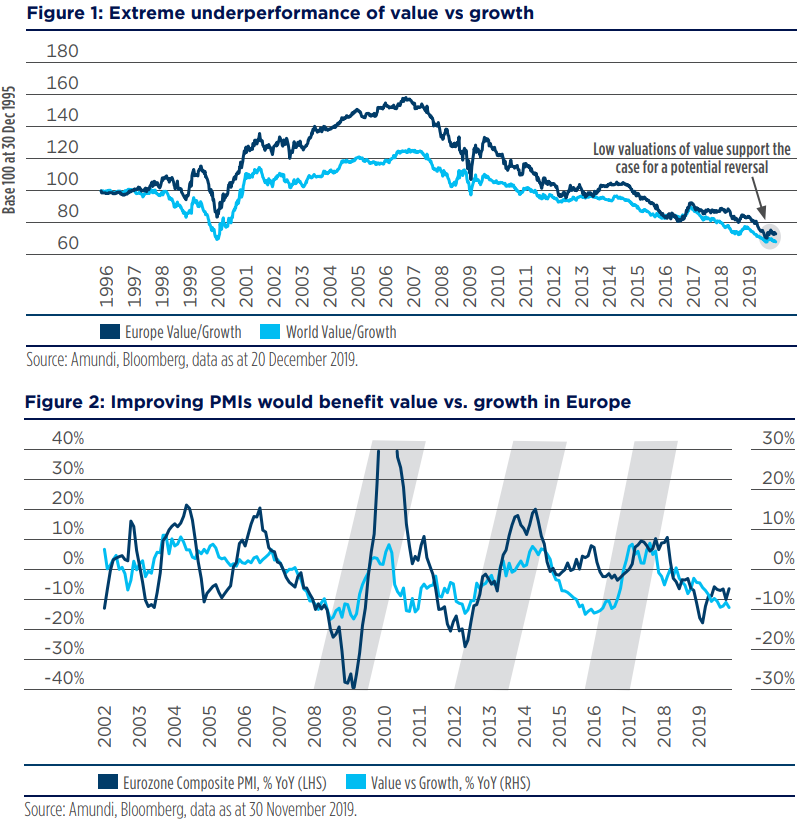 In 2019 manufacturing PMIs dropped below 50 in most regions. Europe, (specifically Germany), which is very exposed internationally, has suffered from this drop. The nonmanufacturing portion of activity, however, has so far resisted the global downturn, with limited spillover from manufacturing. It is important to note that accommodative monetary policies tend to lead to improvements in manufacturing activity, but with a lag of 18 to 24 months. In the US, short-term rates reached a peak in the autumn of 2018 and this could indicate an improvement in US PMIs in 2020. Recent readings in emerging markets and China's activity indicators also point to resilience in these areas.
Extreme overvaluation of growth vs. value
Compared with the previous attempts at a rotation back to value, the current PMI rebound occurs at a time of extreme overvaluation of global growth vs value. In fact, looking at our Composite Valuation Indicator (CVI), a combination of P/ER, P/BV, DY and P/CF, value has rarely been cheaper vs. growth (only 2% of the time in the last 20 years) and these extreme dislocations tend to reverse, offering compelling opportunities for investors. For example, the excess level reached in March 2000 led to an almost 55% outperformance of the global value index vs. the global growth index in the following year.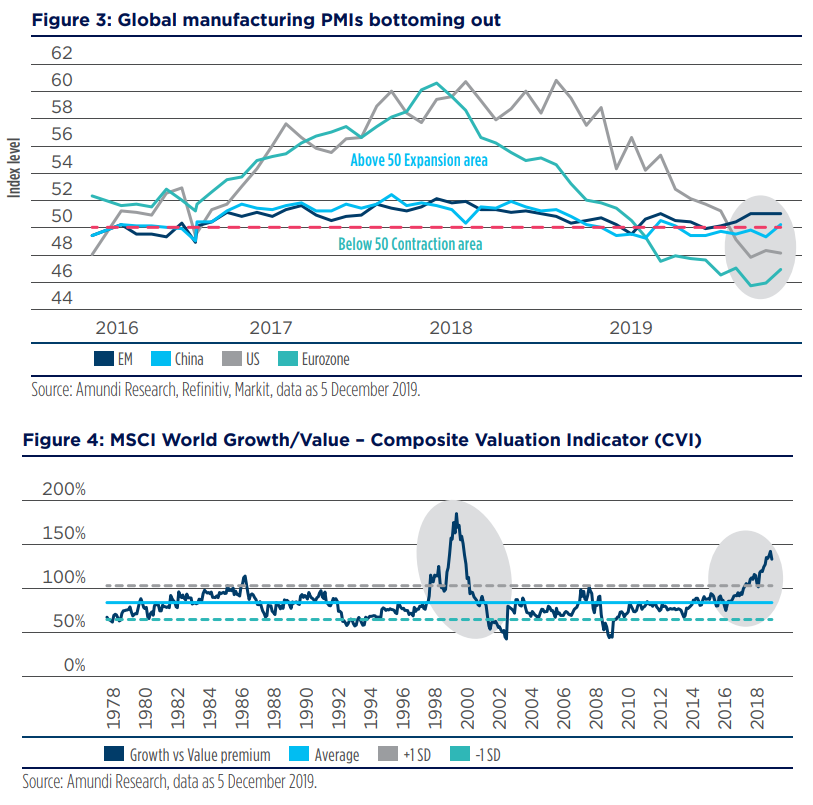 In our view, PMIs bottoming out could benefit the European market the most (see next chapter), offering opportunities especially in the more cyclical sectors such as industrials (industrials represent 14% of MSCI Europe vs. only 9% of MSCI US). However, selection will be key given some areas of disruption and high valuations (see chapter, "A European equity sector view"). In general, we believe investors should be mindful of expensive areas, while seeking higher quality in the value sectors. In fact, as some more traditional value areas of the market are facing significant structural and cyclical challenges, we believe investors should prefer to pay for quality as this will help to insulate performance in case of rising volatility, while also benefiting from the rotation in action.
Value style means purchasing stocks at relatively low prices, as indicated by low price-to- earnings, price-to-book, and price-to-sales ratios, as well as high dividend yields. Sectors with a dominance of the value style: energy, financials, telecom, utilities, real estate.
Growth style aims at investing in the growth potential of a company. It is defined by five variables: 1. long-term forward EPS growth rate; 2. short-term forward EPS growth rate; 3. current internal growth rate; 4. long-term historical EPS growth trend; and 5. long-term historical sales per share growth trend. Sectors with a dominance of growth style: consumer staples, healthcare, IT.
Purchasing Managers' Indices (PMIs) are indicators derived from monthly surveys of senior executives at selected companies. These help in identifying economic trends.
Important Information
Unless otherwise stated, all information contained in this document is from Amundi Pioneer Asset Management ("Amundi Pioneer") and is as of December 7, 2019.
The views expressed regarding market and economic trends are those of the authors and not necessarily Amundi Pioneer, and are subject to change at any time. These views should not be relied upon as investment advice, as securities recommendations, or as an indication of trading on behalf of any Amundi Pioneer product. There is no guarantee that market forecasts discussed will be realized or that these trends will continue. These views are subject to change at any time based on market and other conditions and there can be no assurances that countries, markets or sectors will perform as expected. Investments involve certain risks, including political and currency risks. Investment return and principal value may go down as well as up and could result in the loss of all capital invested.
This material does not constitute an offer to buy or a solicitation to sell any units of any investment fund or any service.
Date of first use: January 8, 2020
Before investing, consider the product's investment objectives, risks, charges and expenses. Contact your financial professional or Amundi Pioneer for a prospectus or summary prospectus containing this information. Read it carefully. To obtain a free prospectus or summary prospectus and for information on any Pioneer fund, please download it from our literature section.
Securities offered through Amundi Pioneer Distributor, Inc.,
60 State Street, Boston, MA. 02109.
Underwriter of Pioneer mutual funds, Member SIPC.
Not FDIC insured | May lose value | No bank guarantee