The Case for Tobacco Settlement Bonds
The Case for Tobacco Settlement Bonds
Wednesday 20 February 2019
Perspectives, Investment Talks
Jonathan M. Chirunga
Managing Director, Deputy Director of Municipals, Portfolio Manager
Amundi Pioneer
Summary
Tobacco Settlement Bonds have been a relatively stable sector in the municipal high yield market compared to high yield corporate bonds and equities, and have provided much needed liquidity, along with an average annual return of 7.6%, exempt from federal and state taxes (in the state where the Borrower is domiciled), since the introduction of these bonds in the Index in 1999.1
There have been no defaults in the municipal high yield tobacco sector, a very strong and positive statement, given the considerable social pressures that the tobacco industry continues to experience.
This "no default" status is even more impressive when the sector is compared to the taxable high yield market, which has experienced an average annual default rate of approximately 4.5% since 1988 through year-end 2018, according to Moody's data.2
Tobacco Settlement Bonds provide substantial state funding for important public health initiatives aimed at addressing problems related to smoking. This includes reimbursement to states for smoking-related public health costs, anti-smoking campaigns, funding for research to combat tobacco-related diseases, and educational programs, particularly to reduce youth smoking.
Role of the Master Settlement Agreement (MSA)
On November 23, 1998, the Master Settlement Agreement was entered into among the Attorneys General from the 46 Settling States and 6 US territories, and the four largest tobacco companies at the time: Philip Morris, Inc., R. J. Reynolds Tobacco Company, Brown & Williamson Tobacco Corporation, and Lorillard Tobacco Company (collectively known as the "Original Participating Manufacturers" or OPMs). Today, after mergers and acquisitions, the OPMs are Philip Morris, Inc., Reynolds American BAT, and Imperial Tobacco. Philip Morris and Reynolds American together represent 83.99% of the cigarette industry market share in the US. Subsequent Participating Manufacturers (SPMs), represent another 9.13% of market share.
The MSA resolved cigarette smoking-related litigation between the Settling States and the OPMs, released the OPMs from past and present smoking-related claims by the Settling States and provided for a continuing release of future smoking-related claims. In exchange, the Settling States received certain initial payments, and receive MSA payments that are made in perpetuity. The MSA also imposed certain tobacco advertising and marketing restrictions on the OPMs, along with other limitations. Under the MSA, the Settling States and all Participating Manufacturers agreed to settle their respective lawsuits and potential claims pursuant to the terms of the agreement.
The resulting funding from the MSA includes the following for Settling States and their citizens:
Substantial funding for the advancement of public health;
Implementation of important tobacco-related public health measures; and
Funding for a national foundation dedicated to significantly reducing the use of tobacco products by youth.
Tobacco Bond Sector Risks
In 1999, the Settling States and territories began issuing Tobacco Settlement Bonds backed by the annual MSA Payments received by the borrowing entities. There have been more than $40 billion of Tobacco Settlement Bonds that have been issued. To date, there have been no monetary defaults in the Tobacco bonds sector. Tobacco bonds are considered to be high yield bonds because of the following:
A narrow revenue stream which is solely supported by the annual MSA payments;
Reliance on MSA payments that are based on US cigarette shipments which have been declining since peaking in 1981;
The tobacco market is susceptible to economic cycles; and
The tobacco market is subject to state and federal government regulations.
Even after the MSA settled, the tobacco bond sector continues to face pressures regarding regulations. In October 2018, the US Food and Drug Administration (FDA) announced that it may attempt to ban menthol cigarettes to assist with curbing the introduction of smoking to youth in the US. This headline-grabbing announcement temporarily caused a dislocation in the municipal high yield market, given that 16.3% of the Bloomberg Barclays Municipal High Yield Index, a broad measure of the high yield bond market, is composed of tobacco bonds, and that menthol cigarettes comprise about 30% of the US, cigarette market. History suggests that any such bans by the FDA would require several years of supported studies and research before such actions would be implemented. Moreover, in the past, tobacco companies have lobbied and vigorously challenged such suggested actions through both policy and litigation. Therefore, we believe these actions are very protracted and provide ample time for markets to digest and respond to projected resolutions.
Why Tobacco Bonds?
The tobacco bond sector is the second most traded sector in the municipal high yield market behind Puerto Rico bonds. During periods of market stress, tobacco bonds have provided strong liquidity for the municipal high yield market, mitigating the effects of short-term disruptions.
Tobacco settlement bonds historically have had higher average annual total returns with less volatility, as measured by standard deviation, than both the S&P 500 Index and high yield corporate bonds. Standard deviation is a statistical measure of market volatility measuring how widely prices are dispersed from an average. The lower the standard deviation, the lower the volatility, and vice versa. Between January 1, 1999 and December 31, 2018, high yield municipal bond prices, as measured by the Bloomberg (BBG) Barclays High Yield Municipal Tobacco Bond Index, returned 7.6% (not taxadjusted) with a standard deviation of 7, while the S&P 500 returned 6.6% with a standard deviation of 9, and the BBG Barclays High Yield Corporate Index returned 5.6% with a standard deviation of 14.5.3 Of course, past performance is no guarantee of future results.
At year-end, tobacco bonds, as represented by the BBG Barc High Yield Tobacco Municipal Bond Index, yielded a favorable 6.14%, exempt from any applicable federal or state taxes.4
The role of tobacco bonds as liquidity provider to the municipal high yield market, and pressures that are inherent in the MSA payments that are pledged as security for the bonds, can lead to additional volatility within the tobacco sector. However, as highlighted in the chart below, MSA payments to the Settling States have been very stable over time, despite the decline in cigarette shipments.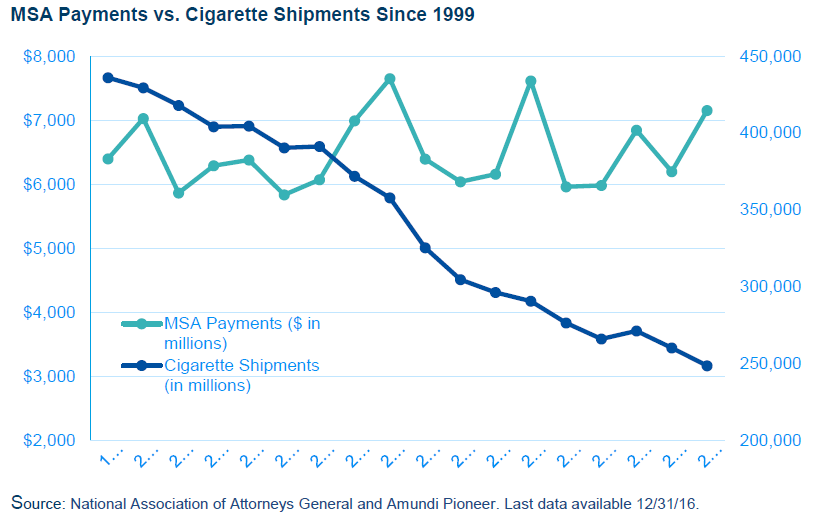 To cushion the thin, but stable revenue stream provided by the MSA payments, most tobacco bonds are additionally secured by debt service reserves.
Stable State Revenue Sources
MSA payments and state cigarette tax collections have provided a very stable revenue stream to states. As shown below, states such as New York, Michigan and Ohio receive robust inflows from these two sources of revenues. Combined, the state of New York's revenues from these two sources are about $1.8 billion, or 1.2% of its annual revenues. The state of Ohio's combined revenues from these sources are about $1.2 billion, or 3.2% of annual revenues. These cash flows clearly demonstrate the reasonably stable base of revenues generated annually from the cigarette industry by these states.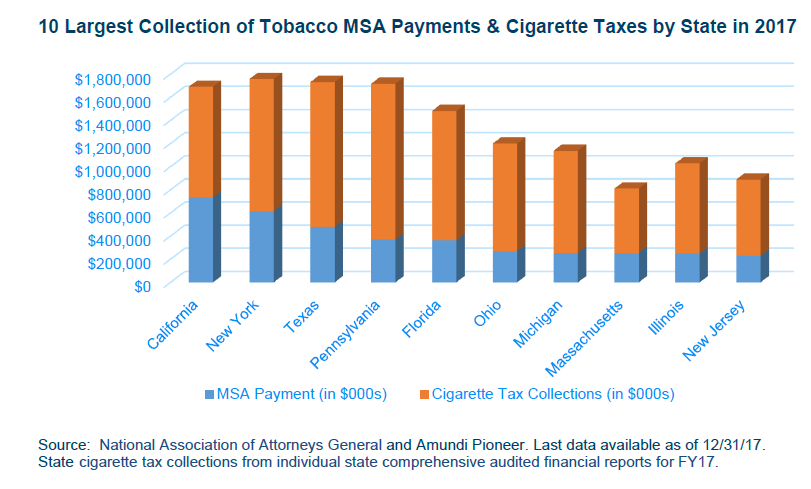 Index Information
Indices are unmanaged and their returns assume reinvestment of dividends, and unlike investment products returns, do not reflect any fees or expenses. It is not possible to invest directly in an index.
Bloomberg (BBG) Barclays Municipal Bond Index – A broad measure of the municipal bond market. BBG Barclays High Yield Index – Measures the performance of the high yield bond market. BBG Barclays High Yield Municipal Bond Index – An unmanaged index consisting of non-investmentgrade, unrated or below Ba1bonds. BBG Barclays High Yield Tobacco Municipal Bond Index – A sector-specific subset of the BBG High Yield Municipal Bond Index. BBG Barclays US Corporate High Yield Bond Index – Measures the USD-denominated, high yield, fixed rate corporate bond market. S& P 500 Index – A commonly used measure of the broad US stock market. Morgan Stanley Capital International (MSCI) EAFE (Europe, Australasia, and Far East) Growth Index – A commonly used measure of international growth stocks.
1 Source: Morningstar, Bloomberg (BBG) Barclays High Yield Tobacco Municipal Bond Index (1/1/1999 – 12/31/2018).
2 Source: Moody's as of 1/1/1988 – 12/31/2018
3 Source: Morningstar data
4 Source: Bloomberg Barclays as of 12/31/18
Past performance is no guarantee of future results.
Important Information
High yield bonds are subject to greater price volatility, illiquidity, and the possibility of default.
Diversification does not guarantee a profit or protect against a loss
Unless otherwise stated, all information contained in this document is from Amundi Pioneer Asset Management ("Amundi Pioneer") and is as of December 31, 2019.
The views expressed regarding market and economic trends are those of the authors and not necessarily Amundi Pioneer, and are subject to change at any time. These views should not be relied upon as investment advice, as securities recommendations, or as an indication of trading on behalf of any Amundi Pioneer product. There is no guarantee that market forecasts discussed will be realized or that these trends will continue. These views are subject to change at any time based on market and other conditions and there can be no assurances that countries, markets or sectors will perform as expected. Investments involve certain risks, including political and currency risks. Investment return and principal value may go down as well as up and could result in the loss of all capital invested.
This material does not constitute an offer to buy or a solicitation to sell any units of any investment fund or any service.
Date of First Use: July 10, 2019.
Before investing, consider the product's investment objectives, risks, charges and expenses. Contact your advisor or Amundi Pioneer for a prospectus or summary prospectus containing this information. Read it carefully. To obtain a free prospectus or summary prospectus and for information on any Pioneer fund, please download it from our literature section.
Securities offered through Amundi Pioneer Distributor, Inc.,
60 State Street, Boston, MA. 02109.
Underwriter of Pioneer mutual funds, Member SIPC.
Not FDIC insured | May lose value | No bank guarantee