Stay agile amid high uncertainty
Stay agile amid high uncertainty
Monday 23 September 2019
Global Investment Views, Fixed income, Equity
Download the Complete October Global Investment Views
Contributing Authors
Pascal Blanqué
Group Chief Investment Officer,
Amundi

Vincent Mortier
Deputy Group CIO,
Amundi
Over the past few weeks markets have fluctuated between positive news around geopolitics (US-China trade talks, Italy and receding risks of no-deal Brexit) and not so good news around economic data (German recession, US manufacturing and Chinese slowdown). This led to a rebound in equities and a rise in core bond yields. A new wait and see phase has likely started during which markets will reassess recession fears and the pressures of trade dynamics on corporate balance sheets. Last year the key drivers of markets were inflation expectations and interest rates. Now, the main factors causing market movements are expectations of recession and policy actions (monetary and fiscal). On both, we believe the markets expect too much. In our central scenario we do not think an economic recession will occur in next 12 months as domestic consumption remains strong (although manufacturing is weak). However, corporate earnings may still be impacted, which is a fragile environment for equities.
In addition, in our view, markets are too optimistic with regards to their expectations of policy measures. The ECB seems to have exceeded investor expectations by implementing easing measures. However, it is clear, that monetary policy has to go along with fiscal measures (the former alone is not sufficient to counteract low growth and low inflation). Regarding fiscal boost, we expect some fine tuning but not a substantial change in EU fiscal rules. When expectations on policy actions are high, the risk for investors to be disappointed is also high, causing volatility in most markets. Having said that, there are other two alternative scenarios that could play out in the future. The more negative one is that the slowdown is more pronounced than expected due to the ongoing trade war. This could affect capital expenditures or may even cause employee dismissals, particularly in the US where labor laws are flexible (however, in the short-term, businesses are reluctant to reduce staff as it is expensive to replace workers), thereby affecting 'robust' consumption. Fear of recessionary risks could also lead to a recession, which could be directly negative for risk assets. There is also a third possibility – central banks implement aggressive policies and fiscal measures are used as well. This would further support risky assets. On the basis of these scenarios and the fact that we consider the first and the second the most likely ones at the moment (fragilities, with high valuations in many areas of the market and risks of disappointment), we believe that investors should remain cautious and agile.
We outline our four convictions –
Interest rates will stay low leading to a continued hunt for yield among investors, given that economic growth is likely to remain subdued.
Trade and politics will remain in focus with less globalization ahead. Therefore, the importance of domestic consumption and related services in individual countries across the emerging and the developed world would increase.
In equities, focus on fundamentals and earnings will be back.
Liquidity remains crucial for investors as they should be aware of the trade-off between risk, return and liquidity that must be taken into account.
In conclusion, our main message for investors is to try to preserve capital in this highly uncertain scenario and be agile in looking for opportunities amid volatility. Going forward, investors will have to assess the evolving probabilities of the different scenarios. Today, our base case of the markets expecting too much on the policy mix is the most likely. There are excessive fears of a recession and also the marginal effectiveness of monetary measures is diminishing. In addition, we believe there are political and economic limitations which would prevent a fiscal U-turn in Europe/Germany.
Beyond the short term, the current debate will lead to pro-growth policy combination with a "whatever it takes" approach. This means that we will see more efforts to bridge the gap between the fiscal and the monetary space. Some sort of 'politicization' of monetary policies and 'monetization' of the budgetary approach may emerge with different frameworks depending on countries and institutions. This could shape the market environment in light of a recession or in light of pre-emptive moves to avoid a recession. Investors will have to assess the short-term impact (yields declining even lower across asset classes) from the shift in expectations that may ultimately follow (including inflation).
Fixed Income: Selectivity and liquidity remain in focus
Contributing Authors
Eric Brard
Head of Fixed Income, Amundi

Yerlan Syzdykov
Head of Emerging Markets,
Amundi

Ken Taubes
Chief Investment Officer, US,
Amundi Pioneer
Over recent weeks the likelihood of a heightened trade war, no-deal Brexit and a return of Italian political crisis has receded. Against this more supportive risk backdrop, central banks are taking central stage. While, the ECB delivered a comprehensive monetary easing package including rate cuts of 10 bps and an asset purchase program, and tiering system for banks, markets continue to expect massive monetary easing by central banks that may be unrealistic. All in all, this calls for a flexible approach to duration management and a still positive view on credit, with selection and liquidity management in focus.
DM bonds
In global fixed income, we maintain our neutral view on duration but investors should continue to seek opportunities at curve levels, as well as at the country allocation level, with a long US/short Germany stance for instance. Among sovereigns, we remain positive on the main peripheral European countries (Spain and Italy where we believe investors should consider some profit taking), supported by monetary easing by the ECB and a new coalition in Italy willing to find agreement with the EU commission on the 2020 budget. Regarding inflation, the Euro breakeven rate has picked up following the recent easing by ECB and we see possibility of an additional pick-up. On inflation, we keep a positive view on US break even. In credit, we favor EUR IG credit, where we have become more positive in the financial sector, in particular in subordinated debt financial and senior financials (Europe). Euro credit investors can also seek opportunities in the primary market. The recent ECB move plays in favor of IG credit. From a US investor perspective, the 10y Treasury yield declined inside of 1.50%, driven by risk-off sentiment and a global thirst for yield, and then rebounded, but we still see room for further rebound. Expectations for aggressive Fed cuts are too high in our view. So, we think investors should remain active in tactically adjusting the duration exposure when the market expectations get extreme. We expect the treasury curve to steepen, given the dramatic run in long term UST yields. On US credit, we prefer higher quality carry and lower risk assets. We favor securitized credit over corporate credit on expectations of strength in consumer and services sectors. In this regard, asset-backed securities (ABS), commercial mortgage-backed securities (CMBS), residential mortgage-backed securities (RMBS) and seasoned agency MBS pools look attractive. US IG corporate market remains strong. Massive recent corporate bond issuances, both HY and IG, were met with even greater global demand, signalling that the appeal for US assets is still high.
EM bonds
We think investors should become more cautious by lowering duration and increasing the cash levels to address potential lower liquidity. Our top convictions remain Brazil, Egypt, Indonesia, Serbia and Ukraine (due to improving outlook and interesting yields), but we are cautious on China (growth slowdown). In credit, we have been seeking selective opportunities in IG and also HY.
FX
We remain positive on USD and JPY, given that the former provides deep liquidity, safety and good yield, whereas the latter is the main risk-off protective currency. We are negative towards the British Pound (Brexit). The outlook for the Chinese Renminbi and South Korean Won is also weak, in light of the global slowdown and trade frictions.
Equity: Seek opportunities in high quality / value names
Contributing Authors
Kasper Elmgreen
Head of Equities, Amundi

Yerlan Syzdykov
Head of Emerging Markets,
Amundi

Ken Taubes
Chief Investment Officer, US,
Amundi Pioneer
Overall assessment
Global economic growth could slow down but a recession is unlikely, in our view, given strong domestic consumption (services) in the US, Europe and the emerging world, and dovish global central banks. While the S&P 500 fell in August, now the markets are back to pre-summer highs. Going forward earnings expectations will decide whether markets break upwards or fall from here. However, earnings continue to be revised down and selectivity remains key to identifying companies with sustainable balance sheets.
DM Equities
In Europe, corporate fundamentals remain solid, although forward earnings visibility has deteriorated. Valuations seem fair and attractive in some areas and we believe heightened volatility and market dislocations (growth/value, cyclical/defensive) could provide investment opportunities. At a sector level, quality/value names are displaying mispricing in industrials and consumer discretionary. We are positive but selective on health care and telecoms as they provide some reasonable safety to an equity portfolio. However, we are negative on sectors such as utilities and consumer staples, which are typically seen as bond proxies, due to high valuations. We see certain opportunities in the domestic sector in the UK, that should be evaluated on a case-by-case basis.
In the US, the consumer remains robust, although the recent spike in oil prices is concerning. Companies may also be affected by oil prices, but it remains to be seen whether this increase is sustained (despite concerns, the supply could be restored and US production has also grown dramatically).
From a style perspective, we are cautious on growth due to high valuations, particularly in the med-tech, software and consumer discretionary sectors.
We are becoming more positive but remain selective on high-quality stocks in the cyclical sectors as valuations are attractive. The out-performance of the defensive vs cyclical may be coming to an end in our view, and perhaps risk on cyclicals are now on the upside. We believe the bond-proxies have high valuations and we remain negative towards them. However, we continue to like good quality opportunities in the real estate sector. In the special value situations space, we are positive on names that offer a mix of value and growth, and where we believe there are improving fundamentals that could lead to a valuation re-rating. At an overall sector level, we are constructive on financials, consumer discretionary and real estate. However, we are negative towards industrials, utilities and information technology.
EM Equities
While we are still constructive on EM equity in the medium term, we prefer to be overall more cautious in the short term, as oil price spikes (drone attack in Saudi Arabia) and trade tensions inevitably have negatively affected the asset class through manufacturing, exports and earnings expectations. Therefore, we would favor self-help countries for the next few months (such as Brazil, Indonesia, Russia and India) and look less favorably on China. As far as the sector allocation, we favor the tech hardware sector in Korea and Taiwan (well positioned to benefit from any uptick in the global economic growth).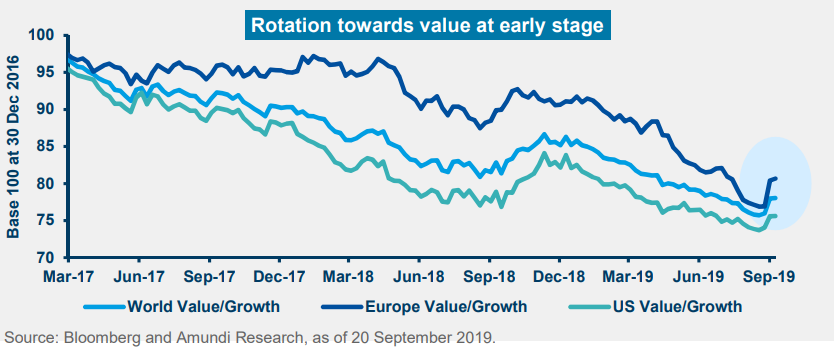 Important Information
Unless otherwise stated, all information contained in this document is from Amundi Pioneer Asset Management ("Amundi Pioneer") and is as of September 19, 2019.
The views expressed regarding market and economic trends are those of the authors and not necessarily Amundi Pioneer, and are subject to change at any time. These views should not be relied upon as investment advice, as securities recommendations, or as an indication of trading on behalf of any Amundi Pioneer product. There is no guarantee that market forecasts discussed will be realized or that these trends will continue. These views are subject to change at any time based on market and other conditions and there can be no assurances that countries, markets or sectors will perform as expected. Investments involve certain risks, including political and currency risks. Investment return and principal value may go down as well as up and could result in the loss of all capital invested.
This material does not constitute an offer to buy or a solicitation to sell any units of any investment fund or any service.
Date of First Use: September 23, 2019.
Before investing, consider the product's investment objectives, risks, charges and expenses. Contact your advisor or Amundi Pioneer for a prospectus or summary prospectus containing this information. Read it carefully. To obtain a free prospectus or summary prospectus and for information on any Pioneer fund, please download it from our literature section.
Securities offered through Amundi Pioneer Distributor, Inc.,
60 State Street, Boston, MA. 02109.
Underwriter of Pioneer mutual funds, Member SIPC.
Not FDIC insured | May lose value | No bank guarantee