Risk-taking around the 3Gs: Geopolitics, Growth, Green
Risk-taking around the 3Gs: Geopolitics, Growth, Green
Wednesday 29 January 2020
Global Investment Views, Fixed income, Equity
Download the Complete February Global Investment Views
Contributing Authors
Pascal Blanqué
Group Chief Investment Officer,
Amundi

Vincent Mortier
Deputy Group CIO,
Amundi
At the start of the 2020s, markets continued to be dominated by geopolitical issues, with short-lived Iran tensions at the forefront initially, followed by the news regarding a phase one trade deal between the US and China. Now, growth expectations are becoming the main driver of the market. That's why the recent volatility due to the news about the spreading of the corona virus in China is higher than in the case of US-Iran tensions, as the epidemic could harm China (and global growth) if not contained soon (not our base case at the moment). Other than this issue, recent data point to a 'so far, so good' assessment as Germany has avoided a recession and the Euro area is bottoming out. Inflation uptrends are materializing to some extent, but risks appear to be limited and the overall inflation outlook remains benign. Central banks are likely to continue to pause on policy changes, which should help to maintain dovish financial conditions across regions. Therefore, in the search for further growth, attention is globally moving towards fiscal measures: Japanese stimulus package; approval of 2020 Budget Laws for Indonesia, the Philippines and India; and hopes for support in Germany, the UK and broader Europe (€1tn European Green Deal).
Green investing and climate change are increasingly themes to watch in 2020. Whether it was the recently released 2020 World Economic Forum report or the latest Davos WEF, climate change and environmental risks are dominating discussions. Europe and China are working together to reduce emissions by launching the Emission Trading System (ETS) which will be the largest carbon market worldwide. Climate change could also be a strong theme in the US electoral debate as global disasters, such as the Australian bushfires, put pressure on politicians to act. Overall, green objectives could be the catalyst for fiscal push, but they could also become the new frontier for trade wars as the European Green Deal considers the possibility of an EU carbon border tax.
From a top down perspective, the interplay between geopolitics, growth and green issues will likely be the main theme driving the risk-on/risk-off mood. From a bottom-up standpoint, credit market dynamics should be the key driver of the financial cycle. The narrative of low rates continues to play in favour of the asset class, despite rich, though not extreme, valuations. Thus, we believe investors should be overweight credit. However, some idiosyncratic stories could still pop up, especially if renewed concerns about a slowdown play out. We believe flexibility and selectivity in managing this asset will be key in generating returns this year.
This backdrop translates into some key investment convictions:
It is not a time to be too defensive. Some short-term issues related to the Coronavirus in China or Europe-US trade negotiations may open buying opportunities to add to risk assets. If the situation in China stabilizes, growth momentum may improve in a low yield environment. Beyond the short term, when US equities may prove more resilient, Europe is the market in which to play cyclical value themes. We would add exposure to EM equities, with earnings expectations gaining traction, once virus issues fade.
In bonds, the focus remains less on the duration play and more on credit picking. Europe, EM bonds and US securitized assets are the way to play the continuing risk-on phase.
Selection in focus. Given tighter spreads, more expensive equity markets globally, and an overall exposure to the "growth factor" across the board, selection is crucial so that investors are not caught in less valuable names that could hurt returns if volatility rises. Selection should rely on fundamentals as well as on ESG, taking into consideration all the risk factors that could affect future business valuations, of which climate change remains the most discussed.
Finally, ESG will be the area that sees new regulations. This should be the case in the financial sector as well. As shareholders are becoming increasingly demanding on all ESG fronts, we expect to see a rise in the impact of ESG on market performances.
Fixed Income: Relative value to generate returns in tight markets
Contributing Authors
Eric Brard
Head of Fixed Income, Amundi

Yerlan Syzdykov
Head of Emerging Markets,
Amundi

Ken Taubes
Chief Investment Officer, US,
Amundi Pioneer
The stabilization of the growth outlook should continue, but there are no expectations of a reacceleration in the global economy. However, core government bond yields are still not picking up despite the improved picture, due to an excessive search for quality and safety, global liquidity, and quantitative easing (particularly in Europe). While the search for yield is supportive of credit markets in general, it could also lead investors to overcrowded segments, which may display high volatility in the event of a minor disappointment on growth expectations. In the current environment, investors should look at segments that may offer attractive relative value and at names that could hold up well in case of a slowdown.
DM bonds
In global fixed income, we maintain a close to neutral stance on duration, with a preference for the US, where conditions have recently improved, while we remain negative on core Euro (Germany) and the UK (fiscal stimulus should push rates higher). We have a constructive view on Euro peripherals as they still offer attractive positive yields, particularly Italy, on which we are more positive. There are opportunities for investors to play curve movements in the core Euro curve, in the UK, in Euro peripherals, and also in Japan, the US and Australia. In credit, we are optimistic overall on IG, but are more constructive on Europe than the US. From a US perspective, the current macro-economic environment and a supportive central bank bode well for risk assets and for the country's growth stabilization around potential (2% annual). But, valuations of some asset classes already reflect this and, therefore, selectivity is important. We are positive on inflation-linked Treasuries (TIPS) on the back of firmer inflation expectations as global and domestic asset prices remain stable amid declining trade and political uncertainties. The US-China phase one deal has now been signed and the House of Representatives approved the US-Mexico-Canada agreement. But, the delay in the phase two deal until after the US elections heightens volatility for 2H20. In IG, we remain cautious on corporate bonds and see more appeal in hybrid structures, particularly in the banking sector. We also maintain our preference for securitized assets, which are relatively attractive vs corporate bonds, as spreads in the former have not tightened as much. In addition, fundamentals in consumer credit remain solid in light of robust wages, balance sheets and consumer confidence.
EM bonds
While the fundamental and technical backdrop will likely remain supportive of the asset class in 2020, valuations currently look tight. It's hard to see pockets of value, especially given the limited space for the Fed to loosen further and for EM FX to perform strongly in the short term. Our outlook is still moderately positive for EM debt, but we believe a more cautious stance is appropriate now, as the strong performance delivered in 2019 is behind us. We believe investors should reduce duration in their portfolios and tactically favor some idiosyncratic stories in countries such as Turkey and South Africa.
FX
We are positive on the EUR/USD, but believe that it will trade in a range and much of the direction will likely come from the USD, which has been showing signs of some weakness owing to mild political risks (US elections). The USD is currently overvalued and capital flows are also less supportive than they have been in the past.
Equity: Temporary noise may provide buying opportunities
Contributing Authors
Kasper Elmgreen
Head of Equities, Amundi

Yerlan Syzdykov
Head of Emerging Markets,
Amundi

Ken Taubes
Chief Investment Officer, US,
Amundi Pioneer
Overall assessment
In the near term, the combined impact of overbought conditions, China virus newsflow, and trade negotiations between the US and Europe returning to focus are likely to generate a buying opportunity in capital markets. In this phase, US equity may prove more resilient. Beyond this shortterm view, we expect that a cyclical rebound should support additional upside this year on the back of improvement in fundamentals. We expect to see an earnings rebound driven by accommodative monetary policies, fiscal stimulus, and a weakening USD. However, an increase in political risks related to the US elections and Middle East tensions could weigh on markets. Returns in 2020 will likely be lower than they were in 2019, with opportunities in European and US cyclical value and EM.
DM equities
A resilient services sector, low unemployment rates, and a possible bottoming of the manufacturing sector support the outlook for European equities. For prices to rise further, we need corporate earnings growth: this highlights the importance of stock selection. Value remains an attractive hunting ground vs Growth in light of expectations of sector rotation and attractive valuations. Opportunities exist in cyclical names of energy and industrials and in health care (defensive). We are cautious on areas where valuations are elevated, as is the case in information technology (IT) and consumer staples. While European small caps should benefit from growth stabilization, monitoring liquidity will be key. Separately, US valuations look reasonable and are supported by low interest rates and credit spreads. Given the dovish Fed stance of 2019, the lagged impact of low rates and other input costs should now boost earnings. In addition, around 40% of earnings in the S&P 500 index are dependent on international operations of companies and consequently a weakening USD would have a positive impact. A majority of earnings growth would come from consolidation of these international earnings. This, in turn, would drive returns in 2020. We remain constructive towards cyclical value over growth and low beta stocks, but continue to reduce focus on expensive names that massively outperformed in 2019. CBs have provided sufficient stimulus to boost global growth. So, we prefer high-quality cyclicals that are more closely linked with receding recession risks. Accordingly, we are constructive on mega cap financials, autos & components, and industrials. We are cautious on health care, IT, consumer staples, and utilities on valuation concerns. Geopolitics has again played a role in our positioning, as we are now less negative on energy amid a limited possibility of escalation between the US and Iran.
EM equities
On a mid-term perspective, we have a positive view on EM equity as we see signs of stabilization in economic activity – with regard to improving earnings expectations – along with improving relations between the US and China, and a continuation of policy easing in 2020. Volatility is elevated in the short term, as the markets assess the possible consequences of corona virus on the Chinese economy. In the EM space, we like Russia (technology) and Brazil, due to market friendly reforms and historically low interest rates. Moving ahead, China could offer opportunities, once the current situation stabilizes. We are becoming more cautious on India as our growth targets for 2020 carry an increasing downside risk.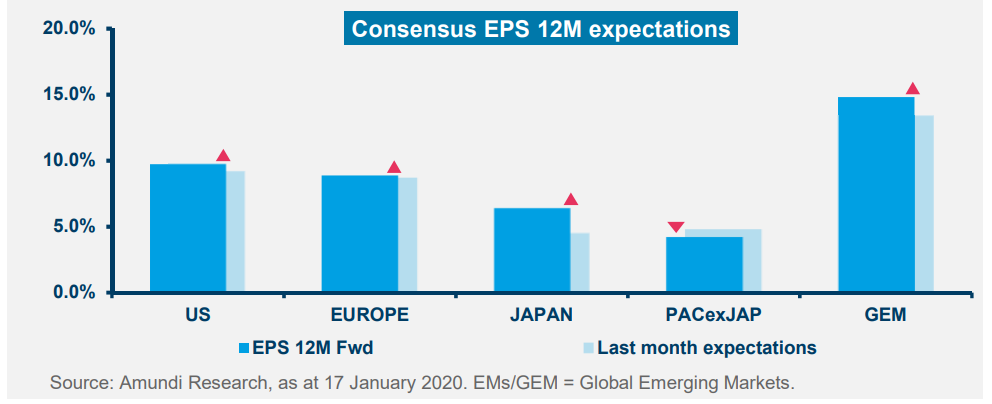 Important Information
Unless otherwise stated, all information contained in this document is from Amundi Pioneer Asset Management ("Amundi Pioneer") and is as of January 29, 2020.
The views expressed regarding market and economic trends are those of the authors and not necessarily Amundi Pioneer, and are subject to change at any time. These views should not be relied upon as investment advice, as securities recommendations, or as an indication of trading on behalf of any Amundi Pioneer product. There is no guarantee that market forecasts discussed will be realized or that these trends will continue. These views are subject to change at any time based on market and other conditions and there can be no assurances that countries, markets or sectors will perform as expected. Investments involve certain risks, including political and currency risks. Investment return and principal value may go down as well as up and could result in the loss of all capital invested.
This material does not constitute an offer to buy or a solicitation to sell any units of any investment fund or any service.
Date of First Use: January 29, 2020.
Before investing, consider the product's investment objectives, risks, charges and expenses. Contact your advisor or Amundi Pioneer for a prospectus or summary prospectus containing this information. Read it carefully. To obtain a free prospectus or summary prospectus and for information on any Pioneer fund, please download it from our literature section.
Securities offered through Amundi Pioneer Distributor, Inc.,
60 State Street, Boston, MA. 02109.
Underwriter of Pioneer mutual funds, Member SIPC.
Not FDIC insured | May lose value | No bank guarantee