Records, surprises and opportunities
Records, surprises and opportunities
Friday 10 January 2020
Global Investment Views, Fixed income, Equity
Download the Complete January Global Investment Views
Contributing Authors
Pascal Blanqué
Group Chief Investment Officer,
Amundi

Vincent Mortier
Deputy Group CIO,
Amundi
As we approach the year-end, a look back over the past 12 months reminds us how unconventional this year of records has been. On the upside, equities rallied to historical highs in December and fixed income returns were also strong as bond yields fell. The combination of these trends enabled a traditional 50 bond/50 equity balanced portfolio for European to investors generate 15.5%1, the best annual performance in the last two decades. However, 2019 also saw some less exciting records on economic and geopolitical fronts – a high world uncertainty index reading (Brexit, Trump impeachment process and trade war escalation). Debt skyrocketed, CO2 emissions rose and social discontent erupted in many countries. Overall, global growth decelerated, inflation failed to reach Central Banks' (CB) targets and vulnerabilities continued to build. The big disconnect in market performance and a fragile economic environment is partially the result of re-rating of market valuations and the big shift in CB policies. Various forms of monetary accommodation have eased the financial conditions witnessed at the beginning of 2019.
Looking ahead, "normalization" continues to be a word outside CB dictionaries, although major institutions in Europe are becoming more uncomfortable about extreme measures. Tiering system for EU banks introduced by Draghi and Swedish Riksbank's decision to exit negative rates signal CBs' awareness of the damaging consequences of negative rates. We see this awareness growing, along with a debate on a more aggressive fiscal policy in Europe (infrastructure and green investing) and also in the US. The scenario of fiscal easing is not fully priced in, especially in core fixed income space and cyclical/value stocks. It could represent one of the main surprises next year that supports a bottoming out of core bond yields and rotation towards value sectors. Another surprise could come from US. We believe, President Trump will do 'whatever it takes' to help the economy stay on track, but there is ambiguity over what outcome the markets prefer – a Trump re-election or a Democrat victory. In the latter camp, while the prospects for Warren seems to be fading in favour of Sanders, there are some fundamental issues at stake (dismantling of big techs, energy policy, health care, regulation, foreign policy). Therefore, we could expect a rebalancing among other sectors/stocks. Investors who seem convinced that Trump will easily win the elections may have to reconsider their position and this could be a source of volatility. Third area of surprise could be in EMs, with possible regional divergences. China (and dependent countries) could benefit from a relief in trade war. The CEMEA region could benefit from its dependence on European demand, while Latin America could be vulnerable to political turmoil and investor flows. All in all, 2020 will be a year dominated by politics and surprises – Europe moving towards fiscal constraint relaxation, US election campaigns and idiosyncratic stories of political instability in EMs. Instead of trying to predict the unpredictable, investors should focus on building resilient portfolio on five principles:
Capture the cyclical rebound in the first part of the year, being cautious on duration with a possible bottoming out of bond yields, and favoring cyclical value stocks, especially in Europe.
Exploiting opportunities in EMs, given that a possible depreciation in US$ next year would support investing in EMs, particularly in the local currency debt.
Monitor the triggers for alternative scenarios, and hedge against extreme events. A restart or worsening of trade war would trigger a recession, ending the bull market in equities and putting pressure on credit market. In the upside scenario, a massive fiscal stimulus in favor of green economy and social equalities could put markets on a sustainable path, but pressure bond yields.
As these outcomes drive very different market implications, investors should maintain adequate liquidity buffers in case any of these diverging scenarios come to fruition.
Finally, ESG investing will become even more relevant to targeting both risk-adjusted performances and impact on economic and social models negatively affected by long-term risks, such as inequalities and climate change.
1 50% MSCI World in EUR 50% Global Aggregate Bond Hedge EUR.
Fixed Income: Opportunities in the broad credit universe
Contributing Authors
Eric Brard
Head of Fixed Income, Amundi

Yerlan Syzdykov
Head of Emerging Markets,
Amundi

Ken Taubes
Chief Investment Officer, US,
Amundi Pioneer
The performance recorded in 2019 will likely be difficult to repeat but the landscape for global fixed income investors remains broadly positive with main Central Banks set to pause the rate cut cycle, but are expanding their balance sheets again. As a result, supportive technicals and persisting search for yield continues to drive credit markets. Here, we look at a broad range of opportunities, beyond the traditional IG space. Duration is not the name of the game at the moment: core bond yields have probably bottomed out in this phase but the direction is not set yet and we expect a broad trading range in core bond yields. Overall, we are carefully monitoring liquidity, which could be low as we close-in on year-end.
DM bonds
On a global fixed income perspective, while we have an overall neutral view on duration, we keep a positive view on US vs EUR and Japan. We remain constructive on peripheral bonds and we recently re-assessed the potential for Italy (more positive) and Spain (less constructive) to reflect the changing situation in the two countries. Investors could also play yield curve opportunities, such as curve steepening in the UK and Canada and flattening in Australia. In credit, we remain broadly constructive, especially in Europe in both IG and HY. Within the former, we find interesting opportunities in subordinated financial.
In US, the Fed has signaled a high bar for future policy actions and will likely keep rates 'on hold', unless inflation persistently exceeds its 2% target (unlikely) or growth outlook materially deteriorates (not our base case). As the drag from the trade war recedes, we expect near-term US growth to stabilize around potential at close to 2%, provided global trade environment does not deteriorate.
A macro-economic environment marked by stabilizing growth and a patient but supportive Fed should be positive for risk assets. In particular, structured securities, including both agency and non-agency Residential Mortgage Backed Securities (RMBS), are attractive relative to IG. This is because fundamentals within the housing market remain positive, with low mortgage rates boosting new home sales, prices and affordability. For corporate bonds, although we are positive in light of stabilizing growth and a supportive Fed, we are watchful of leverage in IG. HY is attractive on a selective basis, given the technical conditions in the low quality bank-loan segment.
EM bonds
We are constructive on EM fixed income and believe this asset class will continue to offer value in the year ahead. From a top-down perspective, within external debt (sovereign and corporate) we favor Brazil, Bahrain, Indonesia, Serbia and South Africa, but we are very selective in sub-Saharan Africa. Regarding EM rates, we are positive on Egypt, Indonesia, Russia, Serbia and Ukraine. In FX, while we turned less bearish, we are still cautious overall. Asian high-yielders (India, Indonesia and Philippines) appear attractive, but we are cautious on growth/trade-sensitive countries such as Korea, Taiwan and Singapore.
FX
On GBP, election uncertainties are over but the rally has been strong and there has been scope to take some profits. There will still be support for GBP near term as investors have to react to the new situation but soon the market will focus on the difficult negotiations at the end of 2020 deadline.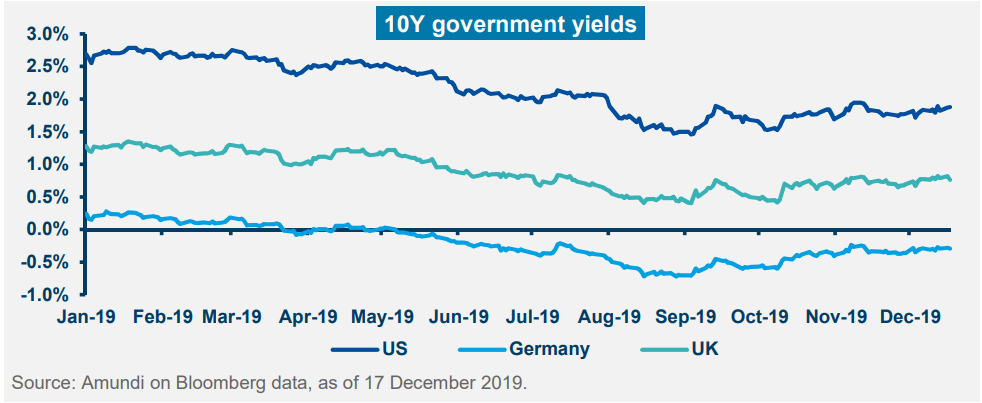 Equity: PMI bottoming out to favor value and cyclicals
Contributing Authors
Kasper Elmgreen
Head of Equities, Amundi

Yerlan Syzdykov
Head of Emerging Markets,
Amundi

Ken Taubes
Chief Investment Officer, US,
Amundi Pioneer
Overall assessment
Equity markets appear to be closing the year on a strong note, with the S&P 500 setting new highs and European Stoxx 600 above the previous 2015 highs. Japanese equity has also rebounded on the back of attractive valuations. Looking ahead, while 2020 consensus earnings expectations may still be somewhat too optimistic, support for earnings growth in H1 2020 seems strong in the US. Even in Europe earnings revisions are stabilizing. In our view, the macro outlook of low growth with no recession, PMI (purchasing manager index) bottoming out and dovish Central Banks should continue to support some further extension of the uptrend. Risks continue to persist mainly related to the trade war, although political risks in Europe have receded after UK election. As a result, we believe that from a global perspective the most attractive areas are in non-US equities (mainly Europe) and in US value.
DM equities
The recent signs of bottoming out of manufacturing in Europe, low unemployment rates and resilient demand support the case for relative attractiveness of European equities (also based on valuations). In addition, UK elections result has reduced the short-term Brexit risk and favored a return of investor appetite to the region. Since the start of Q4, there has been some rotation towards value that we believe could continue in 2020, given the extreme dislocation in value vs growth valuations. Support to the continuation of this trend will come, in our view, from PMIs bottoming out. When playing the European markets, investors should favor the more cyclicals components, but maintain a selective approach. At a sector level, we prefer energy and industrials among cyclicals and health care amongst the defensives. European small and mid-cap stocks could also benefit from the improvements in the manufacturing outlook and a potential Brexit deal.
In the US, we believe that earnings growth is needed to support further upside in the broader market. Stronger top-line growth, manageable wage inflation and a potential pick-up in economic activity suggest that the trajectory of profit margins is likely to reverse positively.
For H1 2020, we see potential for equities to deliver attractive returns, but this is contingent on continued progress on the US-China trade front and Brexit. In such an environment, value and cyclical stocks remain attractive. Here, we maintain a focus on quality, seeking areas of resilience in case of a trade war escalation. At a sector level, we have become more constructive on health care (diminishing prospects of Warren election) and continue to favor mega cap financials in the high quality cyclical space. We remain cautious on bond proxies such as consumer staples and utilities owing to their high valuations and on industrials and information technology. Overall, dispersion in stock prices favors an active approach.
EM equities
We maintain our constructive view on EM equity but are very selective. A widening of the growth premium vs DM in favor of EM is likely and this will modestly support EM equities. In addition, EM equity valuations appear relatively attractive (MSCI EM trades at 32% discount relative to S&P500) and we believe ongoing stimulus measures would support the economy. As a result, we focus on 'self-helping' countries (domestic consumption) such as Russia and Indonesia.
Important Information
Unless otherwise stated, all information contained in this document is from Amundi Pioneer Asset Management ("Amundi Pioneer") and is as of December 18, 2019.
The views expressed regarding market and economic trends are those of the authors and not necessarily Amundi Pioneer, and are subject to change at any time. These views should not be relied upon as investment advice, as securities recommendations, or as an indication of trading on behalf of any Amundi Pioneer product. There is no guarantee that market forecasts discussed will be realized or that these trends will continue. These views are subject to change at any time based on market and other conditions and there can be no assurances that countries, markets or sectors will perform as expected. Investments involve certain risks, including political and currency risks. Investment return and principal value may go down as well as up and could result in the loss of all capital invested.
This material does not constitute an offer to buy or a solicitation to sell any units of any investment fund or any service.
Date of First Use: December 23, 2019.
Before investing, consider the product's investment objectives, risks, charges and expenses. Contact your financial professional or Amundi Pioneer for a prospectus or summary prospectus containing this information. Read it carefully. To obtain a free prospectus or summary prospectus and for information on any Pioneer fund, please download it from our literature section.
Securities offered through Amundi Pioneer Distributor, Inc.,
60 State Street, Boston, MA. 02109.
Underwriter of Pioneer mutual funds, Member SIPC.
Not FDIC insured | May lose value | No bank guarantee