Limbo for markets will not last forever
Limbo for markets will not last forever
Tuesday 22 October 2019
Global Investment Views, Fixed income, Equity
Download the Complete November Global Investment Views
Contributing Authors
Pascal Blanqué
Group Chief Investment Officer,
Amundi

Vincent Mortier
Deputy Group CIO,
Amundi
Bad but not so bad news left the market in a limbo: equity markets were more or less flat in the month, treasury yields remained in the 1.5 / 1.8 range and credit spreads also remained within the trading range of the last few months. However, markets oscillated between weak US and Eurozone numbers, prospects of a US-China 'mini-deal' and tariffs on Europe. Geopolitics and Trump's impeachment was in limelight as Turkey started a military offensive in Syria. China witnessed subdued data, only partially offset by policy measures.
Global growth remains decent, but weaker than expected and more vulnerable. The dovish stance of central banks and more details on 'mini-deal', may save the day for risk assets allowing them to trade in a range. While this (resilient but vulnerable growth) remains our central scenario through the year end, there are other two possibilities for next year. First, an escalation in trade war causes a full-blown contagion from manufacturing into services, thereby affecting consumption. If this happens, we would be in for a very defensive stance. Secondly, growth moderately reaccelerates driven by fiscal and monetary policy and improvement in trade situation, a trigger for some repositioning in risk assets.
However, the limbo for the markets will not last forever. In our view, four key themes will likely set the direction of opportunities and risks for investors:
More uncertain communication from CBs as internal disagreements grow and divergent views within the Fed and the ECB affect markets. These contrasting views and lack of consensus will be the new source of volatility. Moreover, this comes just when market expectations on Central Banks actions are very high, too high in our view.
Dispersion in growth due to less globalization and rising idiosyncratic risks (Brexit).
Resilience of internal demand. Countries with strong internal demand, relatively isolated from trade war and with higher visibility on fiscal policies would be better able to withstand the slowdown. In the US, we need to watch whether a manufacturing slowdown spills over to the consumer and services sector which could aggravate slowdown risks. At the moment, this risk is low: consumption is backed by growing disposable income and we do not anticipate big job cuts.
Uncertain earnings path: There is low visibility on earnings outlook in the short term: expectations have already come down for the next quarters, but the risk for further disappointment is not negligible. A profit recession can occur without an economic recession, and this is still not priced in by the market.
In light of these themes, we outline our four convictions below:
Cautious stance in risky assets to continue amid increasing growth vulnerabilities and limited earnings visibility for the near future. Equities generally bottom out with ISM manufacturing indices, which are not likely to stabilize before next year. Earnings growth is already pointing south and there is no particular sign of euphoria but it is also not the time to be excessively negative in equities.
Biggest opportunities in equities will come from sector rotation, not from directional moves. As most of the market directionality is likely behind us, being right in sector rotation will be important. Growth out-performance vs. value remains extreme. Value in Europe is at multi-year low. For value to outperform, some pick-up or stabilization in yield is needed: we are not there yet but looking for triggers (fiscal expenditure could be one) and good quality companies in the value space could be an opportunity to play moving into 2020. Companies that have sustainable balance sheets, adequate cash flows and strong business models can deliver strong risk-adjusted returns.
We will witness more dispersion among regions, due to less globalization that will renew focus on selection of themes/sectors and securities both in the developed and the EM world.
As the overall picture is not rosy, it is important to monitor the evolution of the key risks in the market and hedge against a possible worsening of the scenario and prepare to be more defensive, should trade talks deteriorate and manufacturing recession spreads to services and affects consumption.
Fixed Income: Credit appetite is high, exploit carry and be selective
Contributing Authors
Eric Brard
Head of Fixed Income, Amundi

Yerlan Syzdykov
Head of Emerging Markets,
Amundi

Ken Taubes
Chief Investment Officer, US,
Amundi Pioneer
While the global economy is witnessing a slowdown, we don't expect a recession. In the US, consumption and services which are a large part of the US economy, should provide support. However, uncertainty over the ongoing trade war and manufacturing weakness lead us to expect a dovish stance from central banks. Therefore this is a time to be cautious but not too conservative. We believe investors should stay in credit to exploit carry and be selective because the appetite is high and this could lead to areas of market complacency. In this environment, should be selective, well diversified and focused on liquidity.
DM bonds
From a global fixed income perspective, we remain neutral on duration but with a preference for duration in the US compared to the Eurozone and Japan. We continue to favor the UK curve steepening strategy, extending the long end of the UK yield curve and we expect a flattening on the Euro curve, while in the US we continue to play curve opportunities. In Europe, a dovish ECB supports our favorable view on EUR IG credit, but we are negative on utilities and adjusted our outlook for the financial sector. We remain watchful of some idiosyncratic risks in high yield (HY). For sovereign bonds, we are constructive on peripheral European countries and slightly more positive on Italian BTPs now, given the improving political stability. From a US investor perspective, the 10y Treasuries appear expensive as investors' continued to search for safety amid uncertainty on trade front and lower ISM data. However, given the strength of the services sector, the consumer and small businesses, the Fed is likely to evaluate data before additional monetary easing. Hence, in our view the US duration exposure should be limited. On US credit, we maintain a modest risk stance and focus on sectors that offer exposure to the domestic US consumer and allow us to enhance diversification in areas with attractive relative valuations. Accordingly, we remain positive on asset-backed securities (ABS), commercial mortgage-backed securities (CMBS) and residential mortgage-backed securities (RMBS). Agency MBS securities are also attractive. We also continue to expect a steeper treasury curve and we have a slightly positive stance on Treasury Inflation-Protected Securities (TIPS) given a higher likelihood of upside inflation surprise (from wage growth and tariff related).
EM bonds
Although we think the asset class can be a net beneficiary of the tug of war between weaker growth and looser monetary policy, we prefer to maintain an overall cautious stance for the time being. Looking at fundamentals, Latin American countries are relatively more attractive at the moment but we are carefully looking at the commodity outlook, which could weigh on this area. We turned more constructive on Brazil (local currency and corporate), while we have reduced our positive stance on Indonesia and Russia.
FX
Given the liquidity and attractive yield offered by the USD and the protection offered by the JPY, we are positive on both these currencies. We also prefer a relative value trade NOK vs SEK, in light of the Norges Bank's hawkish views. The rate disadvantage and the ECB easing measures are a burden on the Euro. We are neutral on the GBP. EM FX should remain weak in this environment given that they are most exposed to global growth.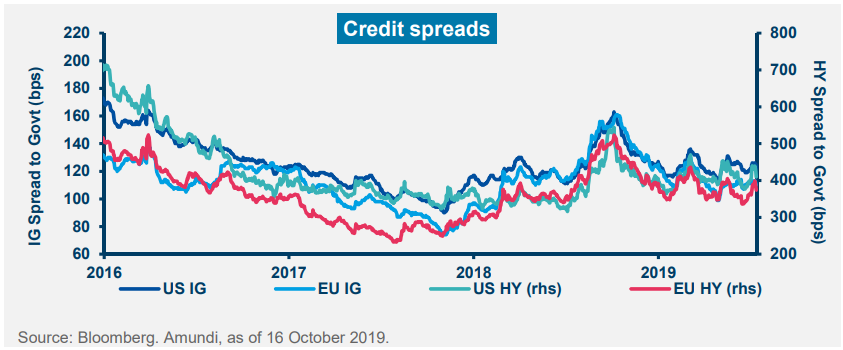 Equity: Market dislocations in 'value' may offer opportunity
Contributing Authors
Kasper Elmgreen
Head of Equities, Amundi

Yerlan Syzdykov
Head of Emerging Markets,
Amundi

Ken Taubes
Chief Investment Officer, US,
Amundi Pioneer
Overall assessment
All in all, strong directional bets in equity markets may be too risky in the current environment (economic slowdown, uncertain global trade), however, active investors should keep an eye for opportunities presented by appealing areas of the market. Valuations of value vs growth are extremely attractive and this is leading some initial signal of a reversal in the multi-year trend of out-performance of growth vs value. We are actively watching such pockets, but we are extremely selective as we note that companies that do not meet expectations in the current uncertain environment, get overly punished by the market. Going forward, we believe investors should look more and more at the equity market with an income perspective. In a world of ultra-low/negative bond yields, the dividend from equity is extremely attractive.
DM Equities
In Europe, there is an all-time high dislocation between value and growth and this dislocation provides investment opportunity. Value stocks trade at an all-time low levels relative to growth, and we think the former provides an attractive hunting ground for stock picking. In particular, the areas that have relatively higher quality and are less exposed to disruption are interesting. Such opportunities exist selectively within sectors such as building materials, industrials, consumer discretionary and financials. However, we are cautious on the very high valuation of certain pockets of the growth universe. The current reporting season shows that there is little room for error when the high valuation names within growth disappoint, therefore caution is needed. At the portfolio level, we continue to seek balance. For this we prefer health care and telecoms in the more defensive compartments over consumer staples as the first two sectors offer a better margin of safety. We also look for emerging opportunities in the UK domestic sector which is trading at depressed levels.
In the US, equity valuations remain attractive relative to fixed income, but the global slowdown and government policy uncertainty suggest a more prudent approach. While earnings growth in the upcoming season is expected to be weak, a crucial indicator would be the guidance for the next quarter and 2020. We are more constructive on value over growth. Despite challenging macro data and headlines (i.e., trade, impeachment, Warren presidency), cyclicals/value are compelling on relative valuation and sentiment suggests risk is to the upside right now. Therefore, this is not a time to be overly defensive. From a bottom-up perspective, we believe high-quality cyclicals could provide opportunities in case of an upside.
EM Equities
In the EM space valuations are supportive and the market could benefit in case of a mini-deal on the trade front. We remain broadly positive on domestic consumption countries for the next few months (such as Brazil, Indonesia, Russia and India) and turned moderately constructive on China even though we expect some volatility in the near future.
At a sector level, we favor information technology (especially in Korea and Taiwan) and the energy sector where valuations and free cash flow yield are very attractive.
Important Information
Unless otherwise stated, all information contained in this document is from Amundi Pioneer Asset Management ("Amundi Pioneer") and is as of October 22, 2019.
The views expressed regarding market and economic trends are those of the authors and not necessarily Amundi Pioneer, and are subject to change at any time. These views should not be relied upon as investment advice, as securities recommendations, or as an indication of trading on behalf of any Amundi Pioneer product. There is no guarantee that market forecasts discussed will be realized or that these trends will continue. These views are subject to change at any time based on market and other conditions and there can be no assurances that countries, markets or sectors will perform as expected. Investments involve certain risks, including political and currency risks. Investment return and principal value may go down as well as up and could result in the loss of all capital invested.
This material does not constitute an offer to buy or a solicitation to sell any units of any investment fund or any service.
Date of First Use: October 22, 2019.
Before investing, consider the product's investment objectives, risks, charges and expenses. Contact your financial professional or Amundi Pioneer for a prospectus or summary prospectus containing this information. Read it carefully. To obtain a free prospectus or summary prospectus and for information on any Pioneer fund, please download it from our literature section.
Securities offered through Amundi Pioneer Distributor, Inc.,
60 State Street, Boston, MA. 02109.
Underwriter of Pioneer mutual funds, Member SIPC.
Not FDIC insured | May lose value | No bank guarantee