Back to school. Back to normal?
Back to school. Back to normal?
Tuesday 03 September 2019
Global Investment Views, Fixed income, Equity
Download the Complete September Global Investment Views
Contributing Authors
Pascal Blanqué
Group Chief Investment Officer,
Amundi

Vincent Mortier
Deputy Group CIO,
Amundi
Financial markets have been rattled in the past weeks over escalating trade war between the US and China as both imposed tariffs and counter-tariffs on imports. Idiosyncratic risks stories in countries such as Argentina resurfaced, the UK's parliament was suspended over Brexit chaos and Italy witnessed a political crisis of its own, although a government seems in sight now. Investors' search for safety pushed core bond yields to unprecedented low levels, with yield on the 30-year German bonds turning negative for the first time ever. The US yield curve inverted for the first time since 2007, with yields on 2Y note rising above those on the 10Y bond.
There are three main factors, in our view, behind this summer malaise.
First, markets do not like policy uncertainty and ambiguity, and both have increased. Geopolitical risk spillovers on the economic outlook are evident. Recession worries are overdone in the US (we don't expect a recession in the next 12 months) and we should not overestimate the role of the yield curve inversion as a harbinger of recession, in the era of unconventional monetary policies. Secondly, the risk of escalation of trade war turning into a currency war is looming as both the US and China fight for global hegemony. The yuan weakening above the 7.0 mark, the first time since the 2008 crisis, has been seen by the US administration as an attempt by the Chinese to manipulate currencies. However, we don't share the view that China will manipulate the currency proactively. Authorities are only seeking to stabilize the exchange rate to offset the negative impact of tariffs on the competitiveness of Chinese exports. Third, political pressures on Central Banks are mounting. The Fed has delivered a rate cut and ended quantitative tightening. But the manner in which Trump has been pressurizing Jerome Powell to reduce rates is a challenge for Fed's independence, more so in light of the 2020 Presidential elections.
What are the investment implications of these elements?
Fall in core bond yields is a reflection of a complex scenario. The narrative seems to be changing from 'bad news for the economy is good news for risk assets,' supported by ultra-dovish central banks to 'bad news may start becoming bad news,' with markets pricing economic downturn. As a result, markets and even politicians expect central banks to intervene more aggressively, but markets may have gone too far in pricing policy actions as global growth could be stronger than expected.
In the short term, expectations of aggressive monetary easing could limit equity market downside in this highly uncertain environment. Central Banks may help to extend the cycle, but the power of these new measures will be lower than in the past, if not accompanied by consistent fiscal support. It is potentially good news that Germany could stimulate the economy to avoid recession. But we are at a very early stage, the amount is limited and not coordinated at the EU level. Equity valuations will be supported by low bond yields. The fact that earnings revisions have already been massive, we could see a stabilization in the coming weeks. Should the equity markets weaken further this could provide some tactical opportunity to add exposure, but at this stage with fading effects of Central Banks' policies, earnings outlook will be the main drivers of the markets, and risks are to the downside.
Search for yield will continue, benefiting primarily quality IG bonds and EM debt. However, with the ultra-low level of bond yields, high duration reached by the main bond indices, and scarce liquidity, investors should be ready to face higher volatility. An active and diversified approach that puts all the fixed income levels to work (duration, currencies, curve, credit), can help to add value in the yield desert and avoid the less stretched situation. Liquidity assessment is also becoming crucial as in case of disappointment on central banks actions, less liquid areas can be more at risk.
Overall, heightened volatility will take investors back to the drawing board, emphasizing the importance of basics yet again. To protect portfolios, investors could mitigate risk by adopting adequate hedging strategies (gold, options, and currency) and also consider retaining a positive view on US duration as a hedge on market and liquidity risks.
Fixed Income: Extreme expectations may drive volatility
Contributing Authors
Eric Brard
Head of Fixed Income, Amundi

Yerlan Syzdykov
Head of Emerging Markets,
Amundi

Ken Taubes
Chief Investment Officer, US,
Amundi Pioneer
Two issues compound the situation for fixed income markets, the US-China trade war and concerns over global economic growth, and expectations of aggressive rate cuts by central banks (CBs). After the rate cut by the Fed in July, the market is now pricing-in additional cuts in 2019 and some additional ones in 2020 (100 bps overall). In Europe, an accommodative stance should remain for a prolonged period. However, there is a possibility that markets are expecting too much and we may see more volatility in case of disappointments. We are also increasingly selective in credit, where liquidity risk assessment is at the forefront.
DM bonds
From a global fixed income perspective, we have an overall neutral duration stance and believe some tactical adjustment in EUR & US duration could benefit investors, given the recent dovish ECB statement. We maintain our positive view on US duration, while reducing the short duration stance in Europe.
With respect to EU sovereigns, we keep a constructive view on the main peripheral countries but are now more cautious on Italy BTPs as the 10y spread vs Bund has tightened significantly. We also continue to seek opportunities from yield curve movements both in Europe and in the US. From a US investor perspective, we have become more cautious on duration amid the strong rally.
Credit
In the US, given narrower credit spreads and lingering macro uncertainties tied to global trade policy, business sentiment and the Federal Reserve's policy reaction function, we are moderately constructive.
Compared to IG credit (where we are cautious on the BBB space) we prefer securitized credit sectors such as asset-backed securities (ABS), commercial mortgage-backed securities (MBS) and residential mortgage-backed securities that can benefit from a still strong consumer sector. We also see selective opportunities in US high yield on the BB and B space that provide better liquidity profiles. In European credit, we are still constructive but selective, preferring short-term maturities with high spreads. Overall, we have become more cautious on financials, especially Italian and UK banks.
EM bonds
We are navigating a complicated market environment amid a global growth slowdown, anchored inflation expectations and elevated trade tensions. In this environment, central bank easing – in an effort to mitigate trade war risks and stimulate growth and inflation – could be supportive of EM fixed income. We believe EM bonds still offer potentially interesting return prospects and remain attractive for investors hunting for yield. But we have become more defensive with a more positive duration stance. We have a preference for Brazil, Indonesia, Serbia, and Ukraine and continue to favor selectively the hard currency space.
FX
We remain positive on the USD and JPY as a hedge. We have become more negative towards the GBP due to a fluid political situation and the increased risk of a no-deal Brexit. We are also cautious on the commodity-bloc and on EM Asian currencies threatened by the escalation in the trade war.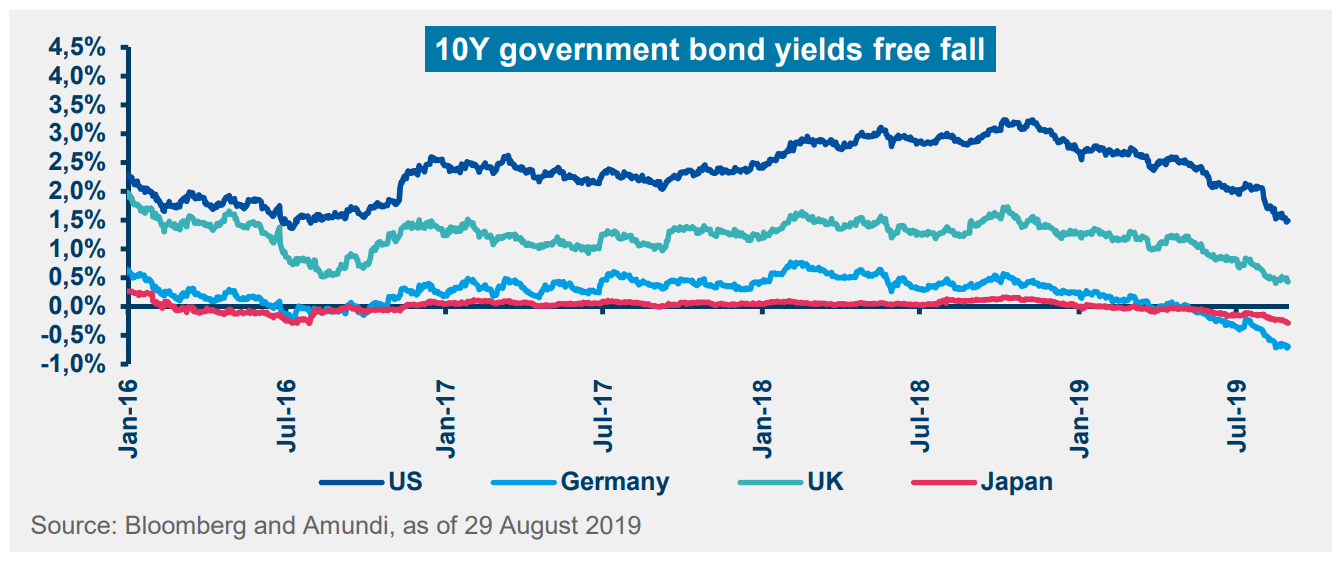 Equity: Be selective and not too optimistic on earnings
Contributing Authors
Kasper Elmgreen
Head of Equities, Amundi

Yerlan Syzdykov
Head of Emerging Markets,
Amundi

Ken Taubes
Chief Investment Officer, US,
Amundi Pioneer
Overall assessment
Equities reacted to the summer volatility as we witnessed a reversal of globalization in the form of increased protectionism and trade-wars. As a result prices now more closely reflect weaker fundamentals. Low bond yields make equity relatively attractive. However, the outlook is more uncertain, as earnings expectations are still high for 2020 and we could expect further downward revision. From an economic standpoint, there are expectations of stabilization at low levels of growth.
DM Equities
In Europe, the reporting season has been largely in line with expectations but forward Q3 and Q4 estimates have declined. We believe 2020 earnings estimates are too optimistic and would be revised downwards. Portfolio balance remains important for investors, given the uncertain macro-economic environment. We continue to find opportunities among cyclicals such as industrials and energy. In particular, we prefer companies with high quality business models and strong balance sheets. While the value sectors are historically cheap, we are mindful of highly indebted companies and those that are particularly exposed to disruption in areas such as retail, media, and autos unless we are adequately compensated for the additional risks. Defensive sectors such as consumer staples have high valuations now. We also see limited opportunities in IT, materials and utilities. Encouragingly, health care and telecommunication present opportunities.
In EU, the banking sector appears structurally challenged, given falling rates. While there are no clear triggers, we believe the valuation of this sector is cheap and a significant tactical opportunity to buy European banks should arise. In an overall neutral view on financials, we prefer banks over insurers. In the UK, no deal Brexit risk has increased. This would have implications on the domestic economy and broader European countries.
In the US, among US cyclicals, we expected a volatile earnings season for Q2 and that is essentially what happened, albeit it was not as bad as originally feared. Therefore, we are now cautious towards the more cyclical sectors, as this is where we have seen the most pain points from quarterly results and management outlooks. From a style perspective, although we still prefer growth, we now believe valuations are extremely stretched in med-tech, software and consumer space. Bond proxies and other low volume stocks still appear very expensive, with the exception of real estate which is the preferred bond proxy. Overall in the US, we prefer sectors such as consumer discretionary, health care, financials. We are negative towards industrials, utilities and consumer staples.
EM Equities
EM equity reacted negatively to the deterioration in US-China trade relations and the primary vote outcome in Argentina (and the following downgrade by rating agencies). Geopolitical risks and uncertainty remain elevated, leading to an increase in investor risk aversion and market volatility, and we expect this to be only partly offset by central banks' easing stance. In this environment, despite attractive valuations, we prefer to be overall more cautious in the short term. Relatively, we favour countries less exposed to external vulnerabilities and with good valuations (such as Brazil, Russia, India).
Important Information
Unless otherwise stated, all information contained in this document is from Amundi Pioneer Asset Management ("Amundi Pioneer") and is as of August 28, 2019.
The views expressed regarding market and economic trends are those of the authors and not necessarily Amundi Pioneer, and are subject to change at any time. These views should not be relied upon as investment advice, as securities recommendations, or as an indication of trading on behalf of any Amundi Pioneer product. There is no guarantee that market forecasts discussed will be realized or that these trends will continue. These views are subject to change at any time based on market and other conditions and there can be no assurances that countries, markets or sectors will perform as expected. Investments involve certain risks, including political and currency risks. Investment return and principal value may go down as well as up and could result in the loss of all capital invested.
This material does not constitute an offer to buy or a solicitation to sell any units of any investment fund or any service.
Date of First Use: September 3, 2019.
Before investing, consider the product's investment objectives, risks, charges and expenses. Contact your advisor or Amundi Pioneer for a prospectus or summary prospectus containing this information. Read it carefully. To obtain a free prospectus or summary prospectus and for information on any Pioneer fund, please download it from our literature section.
Securities offered through Amundi Pioneer Distributor, Inc.,
60 State Street, Boston, MA. 02109.
Underwriter of Pioneer mutual funds, Member SIPC.
Not FDIC insured | May lose value | No bank guarantee