Investment Ideas

Strategies for Markets in Transition
Strategies for Markets in Transition
The Way Back: We Believe Opportunities Abound
We believe our equity and fixed income investment strategies are well-positioned and diversified* to help you adjust to markets, an economy and political landscape in upheaval.
Amundi Pioneer's high quality growth and sustainable large-cap core strategies, together with our municipal bond strategies, provide opportunities designed to help meet these challenges and potentially prosper through this period of massive transition.
*Diversification does not assure profit or protect against loss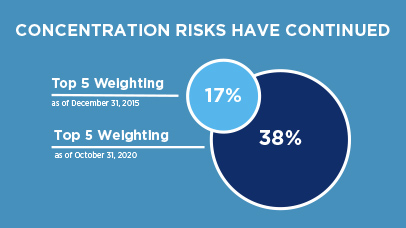 Understanding the Perils of Passive
Passive exposure to large-cap growth has been a popular choice among long-term investors, but we believe shifting market conditions require a reassessment. The Russell 1000® Growth Index has become so concentrated that it may no longer be considered "diversified" in our view.
Is it Time To Reconsider Value?
Value and core equity strategies have trailed in recent years, while mega-cap technology and growth stocks have dominated returns to an extent not seen for decades. As this dynamic unwinds, we believe investors should consider increasing allocations to flexible core strategies that can transition from growth to value securities.
Looking to Maximize After-Tax Income?
Amid a weakened economy, global pandemic and election uncertainty, our highly experienced municipal bond fund managers David Eurkus and Jonathan Chirunga share their insights into the outlook for this crucial market.
Outlook for High Quality & High Yield Municipal Bonds: Pandemic & Politics
Speakers
Jonathan Chirunga
Managing Director, Portfolio Manager, Deputy Director of Municipals
David Eurkus
Managing Director, Portfolio Manager, Director of Municipals
Opportunities in Equity funds
A Flexible Core Equity Strategy Pursuing Sustainable Growth
Pioneer Fund has invested in quality sustainable businesses since its inception in 1928, flexibly allocating to both value and growth companies to pursue the best opportunities for risk-adjusted returns over time.
learn more
Looking for Growth, but Concerned About Volatile Markets?
Pioneer Fundamental Growth Fund invests primarily in US large capitalization companies for long-term capital growth. We believe investing in quality stocks at attractive valuations can generate attractive risk-adjusted returns over time.
learn more
Opportunities in Municipal Funds
Tax-Free Income from a Selectively Constructed Portfolio of High-Yield Municipal Bonds
Pioneer High Income Municipal Fund seeks to provide investors with attractive tax-exempt income, emphasizing nationally diverse sectors and downside risk management.
learn more
A Tax-Exempt Municipal Bond Strategy for a Time of Transition
Pioneer AMT-Free Municipal Fund seeks to provide investors with a high level of current income, exempt from federal income tax, by investing in investment grade bonds focused on sectors that provide essential services to America.
learn more
Before investing, consider the product's investment objectives, risks, charges and expenses. Contact your financial professional or Amundi Pioneer for a prospectus or summary prospectus containing this information. Read it carefully. To obtain a free prospectus or summary prospectus and for information on any Pioneer fund, please download it from our literature section.
Securities offered through Amundi Pioneer Distributor, Inc.,
60 State Street, Boston, MA. 02109.
Underwriter of Pioneer mutual funds, Member SIPC.
Not FDIC insured | May lose value | No bank guarantee