Insights

2020 US Elections
2020 US Elections
Research and Insights
11/04/2020 | Investment Talks
US election: no winner yet, markets moving

At the time of writing, the result remains unclear and prudence is needed as the race is close.
10/26/2020 | Investment Talks
Election countdown: A Trump opening after the final Presidential debate?

For President Trump, it was his last opportunity to change the trajectory in the race.
10/09/2020 | Investment Talks
A civil vice presidential debate has little impact on the race

Vice President Mike Pence and Senator Kamala Harris met yesterday in their one and only Vice Presidential debate in Salt Lake City.
10/02/2020 | Investment Talks
President Trump's positive COVID-19 test shakes up election, markets

President Trump announced in a tweet shortly before 1:00 a.m. on Friday October 2nd that he and the First Lady of the United States (FLOTUS) tested positive for COVID-19. We look at the potential repercussions from this dramatic news in this FAQ.
9/30/2020 | Investment Talks
Advantage Biden after the first Presidential Debate

President Donald Trump and Former Vice-President Joe Biden met yesterday in their first Presidential debate in Cleveland, Ohio.
9/23/2020 | Investment Talks
US presidential election: how it will impact US economy and financial markets

The outcome of the US presidential election remains uncertain for different reasons.
Latest On-Demand Updates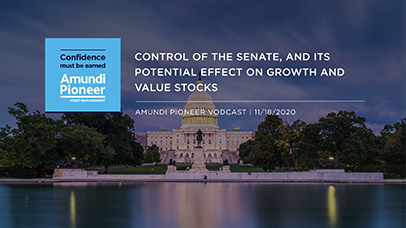 Vodcast | November 18, 2020
Control of the Senate, and its Potential Effect on Growth and Value Stocks
Marco Pirondini shares his thoughts on two potential outcomes of the US elections – whether Joe Biden as President works with a Democratic or Republican Senate and what each may mean for the equity markets.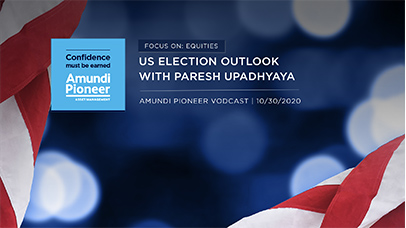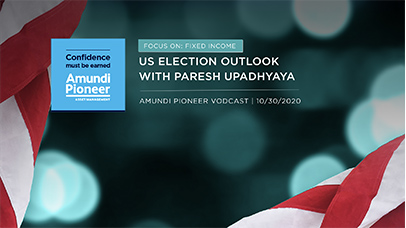 Vodcast Series | October 30, 2020
US Presidential Elections: Outlook for the Markets
How could the outcome of this pivotal election impact the financial markets? Paresh Upadhyaya reviews the potential scenarios, for equity and fixed income investors.
Before investing, consider the product's investment objectives, risks, charges and expenses. Contact your financial professional or Amundi Pioneer for a prospectus or summary prospectus containing this information. Read it carefully. To obtain a free prospectus or summary prospectus and for information on any Pioneer fund, please download it from our literature section.
Securities offered through Amundi Pioneer Distributor, Inc.,
60 State Street, Boston, MA. 02109.
Underwriter of Pioneer mutual funds, Member SIPC.
Not FDIC insured | May lose value | No bank guarantee