Trade war escalation and impact on world trade and economic growth
Trade war escalation and impact on world trade and economic growth
Thursday 12 September 2019
Cross Asset
Read the Complete September Cross Asset Investment Strategy
Alessia Berardi
Deputy Head of Macroeconomic Research
Trade tensions re-escalated this summer. Starting on 1 September, the US Administration introduced new tariffs, by 15% on a first tranche (around $125bn) of the remaining imports from China. China simultaneously retaliated with 5%-10% tariffs on goods on their target list, specifying only the number of items, 1717, but not their value. On top of that, public hearings began in the US (ending by 20 September) to increase the 25% rate of tariffs already in place to 30%; this further increase should be effective at the beginning of October. Finally, the US Administration is expected to impose tariffs on the last tranche of imported goods from China by mid-December. Concerning extra-tariffs measures, the temporary licences conceded to the US corporate to operate with Huawei were extended in August upon expiration but, so far, with no additional structural guidance on how to operate with such an important counterpart. All of this leaves the world with more tariffs in place and greater uncertainty with regard to a trade deal between the US and China; just recently a new round of high-level talks in Washington was confirmed by Vice Premier Liu He and US Trade Representative Robert Lighthizer.
Why are the above events that important? As a consequence of the latest developments, we have again revised our global trade growth forecasts downward for the second half of 2019 and for 2020, with a clearly negative impact on global economic performance and a particular hit to those economies that are most open and most integrated with China.
Among developed markets, Europe is suffering more than the US, and countries like Germany and Italy (manufacturing exporters) are in bigger trouble than other European Union members. Because of their growth model, emerging markets are still closely dependent on external demand, and EM earnings are still generally dependent on EM Exports. Asian economic momentum is by far the weakest in a long time. Latin America, particularly those countries whose performances are more closely linked to the commodities cycle, have been quickly catching up on a cyclical downward path (Peru and Chile).
EM Exports (Aggregate % YoY and % YoY 3MAV)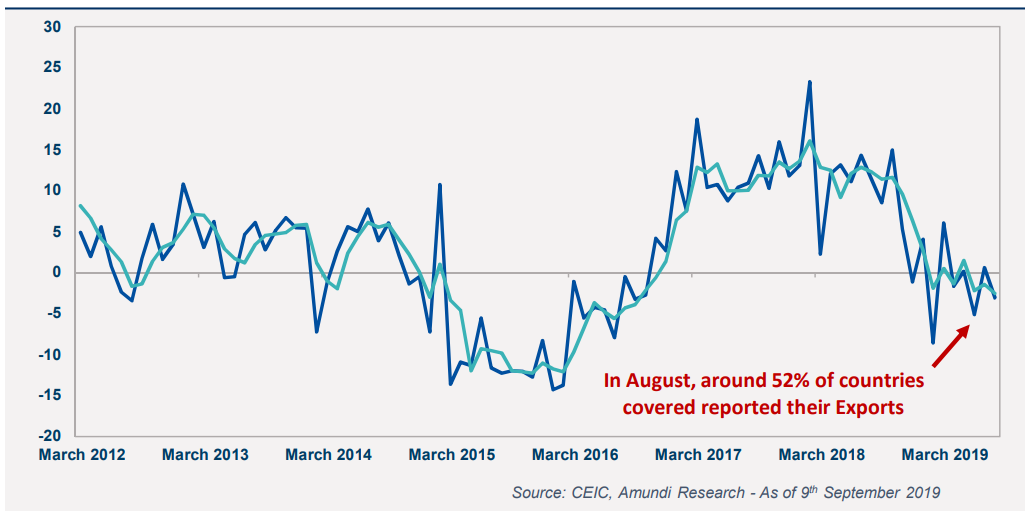 On top of the hit from trade tensions, it's worth adding that several idiosyncratic risks arose (when they were not actually blowing up), in both developed economies (Italy and UK) and emerging markets (Argentina). Some of them have managed something of a solution (with a new government in Italy under a different coalition) and a Brexit reprieve. On the other hand, the Argentinian crisis is much deeper and after the surprising elections outcome, it is now rated as a default.
We have lowered our 2019-20 growth forecasts significantly in most emerging markets. Among the most relevant, the BRICS, this involves China and India in particular. China is at the heart of the trade dispute, and the measures implemented are without any doubt dragging down growth. The external shock is going hand in hand with domestic policy restrictions (with, first and foremost, more regulation and deleveraging) that are still in place, although the economy is under external threat. The industrial, consumer and property sectors are all sharing the domestic and external policy-driven pain. We expect Chinese GDP growth to land on the range floor of 6% in the second half of 2019, while succeeding in keeping the annual growth average barely above 6%. However, we expect that the new growth target range for 2020 will fall slightly below 6% and therefore we expect China to grow by around 5.8% next year. The Chinese policy mix remains on a stimulating stance, though so far in a very limited way and far away from the massive stimulus implemented in recent years. On the monetary policy side, rates cuts are limited and closely targeted (more RRR to come soon) and credit growth bounced back slightly last October and has increased only slightly since then. The recently announced LPR (Loan Prime Rate) reform is again moving in the direction of a marginal easing, in effect favoring the big banks and the safest customers (big corporations) without promoting more credit access for the riskiest customers (small businesses). In late August, it was clarified that LPR should be a floor for mortgage rates, keeping them from falling too much and confirming the unwillingness to stimulate the economy through the property market.
In India, poor economic conditions are broadly based, too. As India is a relatively insulated economy, exports have suffered on average less than in other Asian economies but domestic structural issues (in the rural and banking sectors) are weighing on investments and household consumptions. The GDP growth forecast for fiscal year 2020 (ending March 2020) was recently lowered to 5.7% YoY from 6.1% YoY and increased slightly for FY 2021 to 6.7% YoY from 6.5% YoY. Likewise, the policy mix has turned partially more supportive mainly on the monetary policy side: the RBI has cut its policy rate by 110 bps so far this year and we expect more easing to come. In August, the RBI has announced the transfer of an extraordinary dividend to the government to support fiscal expenditure without compromising the fiscal consolidation path reiterated last July (FD at 3.3% out of GDP for FY20) in the revised budget law. In the first four months of the current Fiscal Year, the Fiscal Deficit is already at 78% of the targeted, due to the revenues shortfall due to the weak economic growth. If India will not compromise its fiscal targets while trying simultaneously to implement more structural reforms, it's difficult to see the economic growth on a path of a more sustainable recovery.
Moving towards less systemic countries, Argentina is where the growth revision has been the most significant: from -1% YoY to -2.3% YoY in 2019 and from 2.5% YoY to 0% YoY in 2020. The unexpected preliminary (PASO) elections on 11 August precipitated the country to the verge of default. The election outcome and a possible halt of the fiscal austerity implemented under the IMF plan triggered a downgrade of Argentina by the main rating agencies and bonds that are already pricing in default. The president in charge is now dealing with measures aimed to boost his chances for the next elections in October and to stop the peso bleeding, with obvious repercussions on an inflation rate already above 50% YoY. Partial capital controls have recently been introduced and the next (mid September) IMF disbursement and plan continuity are uncertain.
Overall, thanks to an incrementally dovish Federal Reserve and ECB, EM monetary policy stance has become more accommodative, too. In August around 15 central banks, of those under review cut their policy rates, some of them surprisingly like the Bank of Thailand and the Central Bank of Peru. More easing is expected to come, in particular if the main global central banks will confirm market expectations in September. This further dovishness will help to alleviate the economic weakness only if properly passed into the real economy. Otherwise more fiscal stimulus where affordable and more pro-business reforms and policies to promote more inward economic development should do better.
Important Information
Unless otherwise stated, all information contained in this document is from Amundi Pioneer Asset Management ("Amundi Pioneer") and is as of September 5, 2019.
The views expressed regarding market and economic trends are those of the authors and not necessarily Amundi Pioneer, and are subject to change at any time. These views should not be relied upon as investment advice, as securities recommendations, or as an indication of trading on behalf of any Amundi Pioneer product. There is no guarantee that market forecasts discussed will be realized or that these trends will continue. These views are subject to change at any time based on market and other conditions and there can be no assurances that countries, markets or sectors will perform as expected. Investments involve certain risks, including political and currency risks. Investment return and principal value may go down as well as up and could result in the loss of all capital invested.
This material does not constitute an offer to buy or a solicitation to sell any units of any investment fund or any service.