Wednesday 24 July 2019
Global Investment Views, Fixed income, Equity
Download the Complete August Global Investment Views
Contributing Authors
Pascal Blanqué
Group Chief Investment Officer,
Amundi

Vincent Mortier
Deputy Group CIO,
Amundi
Financial markets have been enjoying a record-breaking run of late. The tide that lifted all boats was the new wave of ultra-accommodative monetary policy, at this stage announced but not yet delivered. The conviction that central banks (CBs) will step in again to avoid an excessive deterioration of the economic outlook, in the absence of any material sign of inflation, was the main driver of the recent rally. The overall narrative in the market is that the glass is half full. The economic cycle will be extended by CBs, interest rates will remain lower for longer and risk assets will remain well supported: credit and EM by the hunt for yield, and equities by the repositioning of investors that are late joining the party. This is all taking place against a backdrop where overall, valuations are less compelling than they were at the beginning of the year, although are not too stretched. All good then?
Although we resisted falling for the darkest pessimism a couple of months ago, envisaging some sort of agreement on trade and Italy, we are, however, now refraining from joining in with excessive optimism. After the current exuberance, we expect that the focus will return to fundamentals and reality, which are decent, but not that exciting. It is true that we do not see an imminent recession, and a moderation of growth is our main scenario. It is also true that financial conditions have eased materially over the course of the past several months (rally in rates and spread tightening, with an impressive rally in stocks too). However, the quality of growth is poorer than a few months ago: global trade is weaker than expected, with limited upside potential in the short term, and the flat yield curve in the US is discouraging animal spirits. Investment is on the weak side, with business confidence indicators in a downtrend across the board, as well as all of the manufacturing PMIs. Domestic demand growth is still good overall – consumption is the main engine of growth – but it is important to test its resilience and the spillover from trade weakness.
In this mixed environment, we expect the Fed to act with a preventive cut, but not to overreact. The slow period, which began last year on the back of the lagged effects of Fed tightening and trade noise, could begin to dissipate and we could see a bottoming out of economic conditions.
Another important test for equity markets will be the reporting season that is due to start in the coming weeks. Recent price action has closed the valuation gap reached in May and global equities have now almost reached the targets expected in the next 12 months. Bottom-up analysts are revising down their earnings expectations for Q4: at current PMI levels, S&P 500 earnings per share growth should be in the range of 3-5% in the next 12 months. The main message at this point is that there is a risk of some disappointment in the next few months and some volatility returning to risk assets.
In conclusion, during this hot summer with thin volumes, we believe that investors should be aware of likely pullbacks and take advantage of them to add to the most convincing ideas (EM assets, IG credit, attractively valued and high quality stocks), while also remaining aware that conditions are more fragile now. This scenario holds unless central banks are seeing dire data that we cannot yet see. In this case, the party will abruptly stop for risk assets and we should reconsider risk allocation, favoring long duration, safe assets and further material risk reduction. Due to the past track record of central banks in anticipating crises, this is quite unlikely.
Beyond the short-term view, the extension of the cycle is a concrete possibility. The dominance of politics over economics poses a challenge to the independence of central banks, despite reassuring messages from bankers (this is clear in the dialogue between Trump and Powell, but could become evident also at the ECB).
A convergence of pro-growth policies on both sides of the policy mix (fiscal and monetary) could further extend the cycle, and finally reignite a bit of inflation. This would prolong the goldilocks phase for risk assets, especially cyclical components, with an increasing focus on risk and liquidity management.
Fixed Income: All levels at play
Contributing Authors
Eric Brard
Head of Fixed Income, Amundi

Yerlan Syzdykov
Head of Emerging Markets,
Amundi

Ken Taubes
Chief Investment Officer, US,
Amundi Pioneer
Fixed income markets are discounting a very aggressive dovish approach by the Fed and a generally accommodative central bank (CB) tone in DM and EM. Although the direction, in terms of Fed rates, seems set (downward), the "when" and "how much" questions, related to the next easing cycle, are still open, and the answer will broadly depend on the next set of economic data. A first cut is expected in July (25bps more likely than 50 in our view), because the Fed has already committed to it and believes that it has tightened too much. If, as we believe, market expectations have gone a bit too far, we should see some volatility return to fixed income to readjust prices to expectations. In any event, it won't matter to the Treasury market bulls in the medium term if the economic data is already beginning to turn up.
DM bonds
From a global fixed income perspective, our duration view is overall neutral (slightly short in the Eurozone and slightly long in the US). Playing yield curve movements driven by CB expectations is a key strategy to add value in a low yield world: we see a flatter Euro curve and a steeper one in the US. Thanks to the CBs' "insurance policy", we maintain a positive view on the main European peripheral countries, and are more positive also in Italy. In Euro-denominated portfolios, due to the extremely low level of yields reached by core bonds, investors should take a more cautious duration view to benefit from a possible market repricing. In the US, we believe investors should favour lengthening duration in broadly diversified fixed income portfolios as a consequence of a more negative outlook for economic growth overall. We view TIPS as especially attractive relative to nominal Treasuries
Credit
In Euro credit markets, we are still constructive, although more selective in trying to optimise the carry opportunties. This means preferring short-term bonds with higher spreads and subordinated financials, which are enjoying CBs' support. Overall, fundamentals are better for Euro IG vs. US IG. In the US, we still view the investment environment as an attractive one for carry and modest spread performance. Within government-quality sectors, we view agency MBS attractive relative to nominal Treasuries.
EM bonds
There is a broad positive consensus for EM debt. We still see better risk-reward in EM sovereigns, EM local rates (duration component) and corporate credit compared to EM FX, on which we are defensive, especially in low yielding, equity sensitive currencies in Asia (more exposed to trade and China growth). EM debt is benefiting from accommodative CBs, a benign inflation environment and some relief from trade tensions, which is particularly favourable for local currency debt, where we favour Serbia, Brazil, Indonesia, Russia and South Africa. We have recently become more cautious on the GCC due to increased geopolitical risks in the Middle East. Despite recent robust price action, we do not see excess in the market, but we would not be surprised to see a bit of a pullback, which could offer new entry points. Currencies, rather than rates or credit, could see most of the growth slowdown.
FX
On the US dollar, we have become more cautious in anticipation of trade war de-escalation and Fed policy.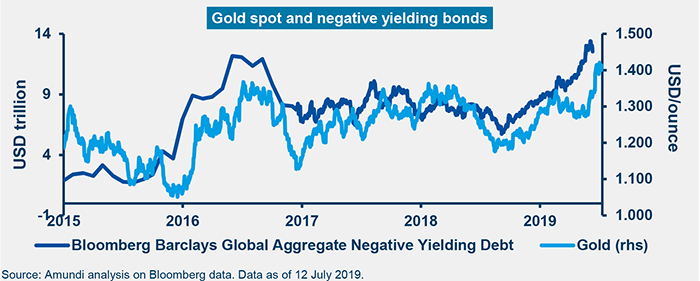 Equity: A decent, but not exciting, Q2 earnings season
Contributing Authors
Kasper Elmgreen
Head of Equities, Amundi

Yerlan Syzdykov
Head of Emerging Markets,
Amundi

Ken Taubes
Chief Investment Officer, US,
Amundi Pioneer
Overall assessment
Equity markets extended the rally and we now see most of the good news as being already priced in and an increasing disconnection between fundamentals and price action. We expect volatility and a consolidation in DM equities, with possible entry points materializing afterwards. The convergence of earnings growth at the regional level is a sign of a mature cycle and does not call for strong regional directional calls.
DM Equities
In the US, we expect a volatile Q2 earnings season. Corporate margins are toppish, absorbing higher wages and higher costs from tariffs, and a weaker M&A trend is another sign of the maturity of the cycle. The obvious call would be value over growth on relative valuations, but slowing economic growth and trade tensions are headwinds, and they have led us to refrain from increasing this position. Our positive assessment on growth sectors is primarily for consumer retail and IT. Most retail is expensive, but we find value in home improvement, off-price and e-commerce companies. In IT, we favour capex/cloud/softwareas-a-service stocks, which are reasonably priced for long-term growth levels and have limited tariff exposure. We believe investors should reduce the cyclical/value positioning as we do not feel the worst is yet priced in.
In European equities, we see three main themes worth looking at: banks, industrials and healthcare.
Banks are bearing the burden of dovish central banks but despite this, we believe investors should continue to favour core, high quality European banks over insurance, and we look for opportunities to further upgrade our view.
On industrials, we have seen recently a confirmation of manufacturing weakeness, which reflected some profit warnings of some big caps. We have become slightly more conservative in industrials but continue to find good bottom-up opportunities in this space.
Healthcare is once again becoming a focus point as we enter an "election year" in the US (Nov 2020). The focus will be on healthcare costs and pricing, which could hurt the sentiment for European healthcare companies with US exposure. We have started to take a slightly more conservative view on healthcare, balanced by a more constructive view on telcos, which offers defensiveness and European domestic exposure.
Political risk for the European Union has eased somewhat in recent weeks. The main risk to monitor is related to Brexit, as, in our view, the probability for a no-deal stands now at 30%. For this reason, a "Euroland" focus would help mitigate the risk of a negative surprise on Brexit.
EM Equities
EM equities have benefited from easing trade tensions, in an overall earnings outlook that remains mixed (revisions are deteriorating again in LatAm, while they are marginally improving in EMEA). We expect further significant upside in the case of a deal between China and the US being reached before the US presidential elections, with existing tariffs remaining in place but no further escalation. On the contrary, a scenario in which negotiations break down and tariffs are extended to $300bn, could lead to a material market correction (up to 20%).
Our main convictions in EM equities are on Russia (dividend yield and supportive policies), China (dividend yield), India (political stability and reforms), and in the last month we have become constructive on Indonesia, the main beneficiary of lower rates and good economic fundamentals.
Important Information
Unless otherwise stated, all information contained in this document is from Amundi Pioneer Asset Management ("Amundi Pioneer") and is as of July 16, 2019.
The views expressed regarding market and economic trends are those of the authors and not necessarily Amundi Pioneer, and are subject to change at any time. These views should not be relied upon as investment advice, as securities recommendations, or as an indication of trading on behalf of any Amundi Pioneer product. There is no guarantee that market forecasts discussed will be realized or that these trends will continue. These views are subject to change at any time based on market and other conditions and there can be no assurances that countries, markets or sectors will perform as expected. Investments involve certain risks, including political and currency risks. Investment return and principal value may go down as well as up and could result in the loss of all capital invested.
This material does not constitute an offer to buy or a solicitation to sell any units of any investment fund or any service.
Date of First Use: July 24, 2019.