Seek High Yield Opportunities, but Be Aware of Liquidity Conditions
Seek High Yield Opportunities, but Be Aware of Liquidity Conditions
Monday 29 July 2019
Perspectives
Download the Complete Blue Paper
Contributing Authors
Ken Monaghan
Co-Director,
High Yield

Andrew Feltus
Co-Director,
High Yield

Sergio Bertoncini
Head of Rates and
FX Research

Laura Fiorot
Deputy Head of Amundi
Investment Insights Unit
Global High Yield
Three main themes driving investing opportunities: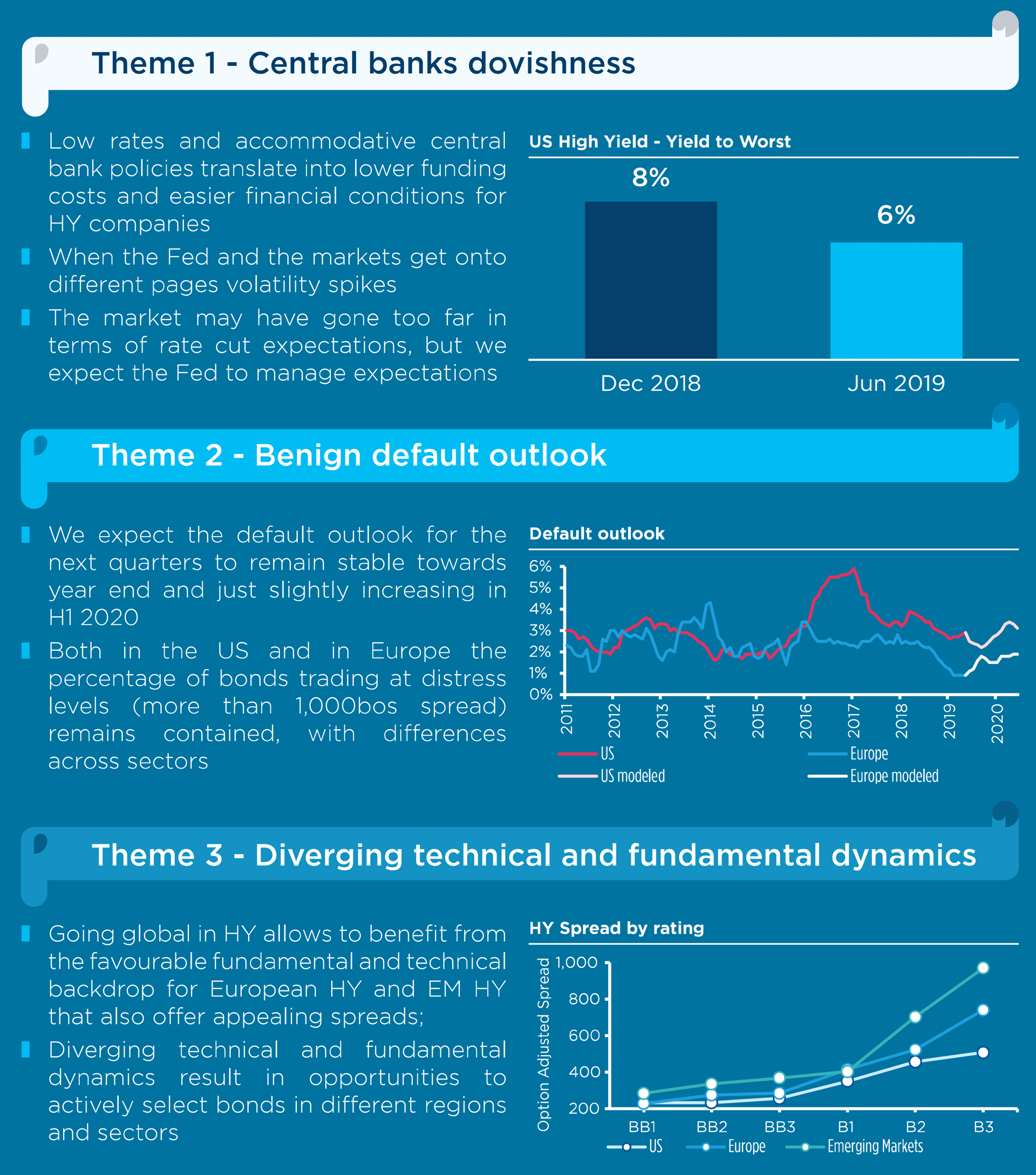 Definitions
Bond ratings: Source: Moody's and S&P. If the ratings provided by Moody's and S&P for a security differ, the higher of the two ratings is used. Bond ratings are ordered highest to lowest in portfolio. Based on S&P measures: AAA (highest possible rating) through BBB are considered investment grade; BB or lower ratings are considered non-investment grade. Cash equivalents and some bonds may not be rated.
Credit spread: differential between the yield on a credit bond and the Treasury yield. The option-adjusted spread is a measure of the spread adjusted to take into consideration possible embedded options.
Default rate: % issuers that failed to make interest or principal payments in the prior 12 months.
Volatility: a statistical measure of the dispersion of returns for a given security or market index. Usually, the higher the volatility, the riskier the security/market.
Yield to worst (YTW): it is the lowest potential yield that can be received on a bond without the issuer actually defaulting.
Important Information
Unless otherwise stated, all information contained in this document is from Amundi Pioneer Asset Management ("Amundi Pioneer") and is as of July 20, 2019.
The views expressed regarding market and economic trends are those of the authors and not necessarily Amundi Pioneer, and are subject to change at any time. These views should not be relied upon as investment advice, as securities recommendations, or as an indication of trading on behalf of any Amundi Pioneer product. There is no guarantee that market forecasts discussed will be realized or that these trends will continue. These views are subject to change at any time based on market and other conditions and there can be no assurances that countries, markets or sectors will perform as expected. Investments involve certain risks, including political and currency risks. Investment return and principal value may go down as well as up and could result in the loss of all capital invested.
This material does not constitute an offer to buy or a solicitation to sell any units of any investment fund or any service.
Date of First Use: July 29, 2019.