Kick-off 2019 with courage and discipline
Kick-off 2019 with courage and discipline
Wednesday 23 January 2019
Global Investment Views, Fixed income, Equity
Download the Complete February Global Investment Views
Contributing Authors
Pascal Blanqué
Group Chief Investment Officer,
Amundi

Vincent Mortier
Deputy Group CIO,
Amundi
After a tough December, which led to an abrupt valuation reset, risk assets rebounded in the first weeks of the year, boosted by a market-sympathetic turn in Fed rhetoric and an increased optimism on trade negotiations. As the current reasons for optimism should be confirmed, we believe it is time to re-approach the areas of risk assets where the correction has brought value back, especially in emerging markets. In our view, investors should start 2019 with a disciplined approach, but also have the courage to look beyond short-term noise in search for long-term value. The four areas to watch are:
Economic outlook: Signals of a mild deceleration in global growth are apparent. We cut our US growth expectations for 2019 and 2020, with potentially more revisions still possible down the road. However, we do not expect a recession (at least for the next 18 months) and buoyant labour markets should continue to support personal consumption. The EU economy, while slowing, should remain resilient, helped by loose monetary policy and some fiscal loosening (visible in Germany, France and Italy, for different reasons). China's soft landing has so far been well managed, with the government very proactive on policy, and EM growth showing signs of stabilisation (although with divergences). Yet, risks regarding global growth are skewed to the downside, in our view, and the market – also alerted by more dovish Fed rhetoric – will closely watch the forward-looking indicators (eg, PMIs – disappointing) before removing recession risk from the radar.
Fed policy: The Fed's communication strategy now seems to be more sensible to market volatility. With the Fed abandoning any pre-set policy path, and likely ending the tightening process in H1 (we now expect one hike in 2019), upside pressure on interest rates looks to be fading and the idea of central bank (CB) liquidity drying up could be of less concern than feared during the year-end blues.
Earnings: This could be a headwind for risk assets. After a strong increase over the past two years, EPS growth is expected to decline sharply in 2019, due to a deceleration in global GDP growth, fading impacts of US tax reform, declining sector contributions from oil and commodities, and rising labour costs. But most bad news already seems to be priced in as confirmed by the more muted reactions to negative news.
Trade disputes: Progress in trade negotiations is key. The direction towards cooperation seems clearer, encouraged by the weaker economic activity in China, with spillovers in the US which are pressuring the leaders to seek solutions. But markets will require tangible actions before repricing lower trade risk.
In addition, we continue to maintain a strong long-term awareness of the structural fragilities of the current economic/political/social framework. Long-term challenges remain: the China-US relationship; the Chinese delicate soft landing phase; DM CB with little room for maneuver to fight recessions; global debt at skyrocketing levels; global growth engines losing steam; and rising inequalities: each of these factors, all the more if combined together, represent a recipe for social unrest. Last year was a period focused on the sequence of repricing in asset classes: EM first, EU equities second, US equities and DM credit at the end. We are now approaching a new sequence when some asset classes will bottom out (starting with EM) while some others can still experience some further repricing or liquidity issues (low-quality debt). In our view, investors seeking to build resilient portfolios should increase liquidity buffers, focus on valuations, and identify the asset classes that could offer interesting entry points in order to start rebuilding some risk exposure in asset allocation.
* EM = Emerging Markets, DM = Developed Markets, ECB=European Central Bank
High conviction ideas
Multi-asset: We maintain our overall defensive stance, but we seek to cautiously increase risk exposure, as risk assets should be supported by more dovish CB stances and China's expansionary polices. In DM credit, we think most of the widening is now behind us, as the market is discounting recession risks. We prefer EU credit, considering the better fundamentals and a relatively more favourable technical backdrop. We think investors should add duration in the US.
Fixed income: We expect the prevailing uncertainty and growth deceleration to cap any significant increase in interest rates. With no strong duration conviction, we believe investors should seek opportuni
ties in relative value strategies, keeping a preference for US duration. EU credit is better valued, and we suggest taking advantage of the rich supply in the primary market to reintroduce some risk exposure. Also, the US high yield is now more attractive, as is EM debt (also in LC).
Equities: Focus continues to be on the sustainability of earnings and names that can deliver over the medium term. The US earnings outlook, although weakening, still looks positive for the year. We have become more constructive on the FAANG after the correction. In Europe, we seek value in cyclicals, in many case now discounting a recessionary environment. EM equity, cheap on a relative value basis vs DM, could be the first to benefit from a Fed pause, a solution on tariffs or stronger stimulus in China. Opportunities may be seen at the single country level (eg, India, with growth still well above the rest of the region).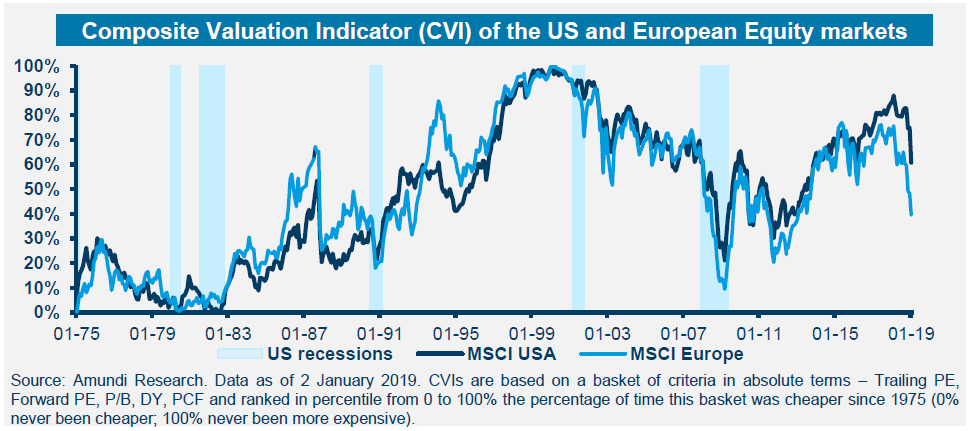 Fixed Income: Benefit from credit and EM bond repricing
Contributing Authors
Eric Brard
Head of Fixed Income, Amundi

Yerlan Syzdykov
Head of Emerging Markets,
Amundi

Ken Taubes
Chief Investment Officer, US,
Amundi Pioneer
Overall assessment
The US interest rate market moved from pricing two hikes to pricing only one rate hike in the space of few weeks, following the shift in rhetoric at the Fed and the weaker global economic performance. The move in rates was fast and possibly exaggerated, however we believe the downward pressures on yields will continue, especially for the US bonds. While the balance-sheet of the Fed is shrinking, there is enough uncertainty to keep the demand for perceived safe heaven assets alive. A cap in US rates is a positive factor for EM bond while the broad spread widening has also restored some value in credit.
DM bonds
We suggest maintaining a long duration preference in the US while staying defensive in core Europe, as we consider the current valuations unattractive, particularly on the short end of the curve. Overall, we do not see a strong case for higher yields. We think investors should exploit relative value opportunities. At the curve level, we suggest keeping a flattening bias in the EMU; in core markets, we like Belgium and France. We are now neutral on UK rates: valuations seems excessively high but the downward revision of economic growth prospects is likely leading to a more dovish Bank of England.
On European credit, the recent spread widening has opened up opportunities; we consider the upcoming supply in the primary market as a chance to reload some risk, moving from a defensive to a neutral/slightly positive stance. We focus on selection and mitigating idiosyncratic risk, which could rise as the ECB steps out from the corporate purchasing programme, especially in the context of poor liquidity. We are also becoming more constructive on US credit. Selective high-yield names look better remunerating, given the benign default outlook. We also see opportunities in commercial morgtgage-backed securities (CMBS) and in non-agency MBS.
EM bonds
We believe that the tailwinds which are favouring the asset class will persist in 2019 – a more dovish Fed, a relaxation of US-China trade tensions, moderate growth with no hard landing. Relatively robust fundamentals in EM and less CB hawkishness will also support inflows. Country selection will be extremely important. We prefer countries where monetary policy could turn supportive for the economic cycle, considering specific vulnerabilities and idiosyncratic risks. With US interest rates remaining around the current levels, valuations now look attractive. We think investors could benefit from carry returns, and we like high-yielding countries, such as Brazil, South Africa and Indonesia. Local currency markets offer the highest potential, we think, should we see a materially weaker dollar.
FX
The more dovish Fed stance could weigh on the USD, but conditions in the EU (political uncertainty, growth slowdown) are not sufficiently robust to call for a significant appreciation of the currency. We are tactically more defensive on British sterling, due to Brexit uncertainty. We are becoming more positive on the Japanese yen, as the BoJ looks to be starting to refine its policy.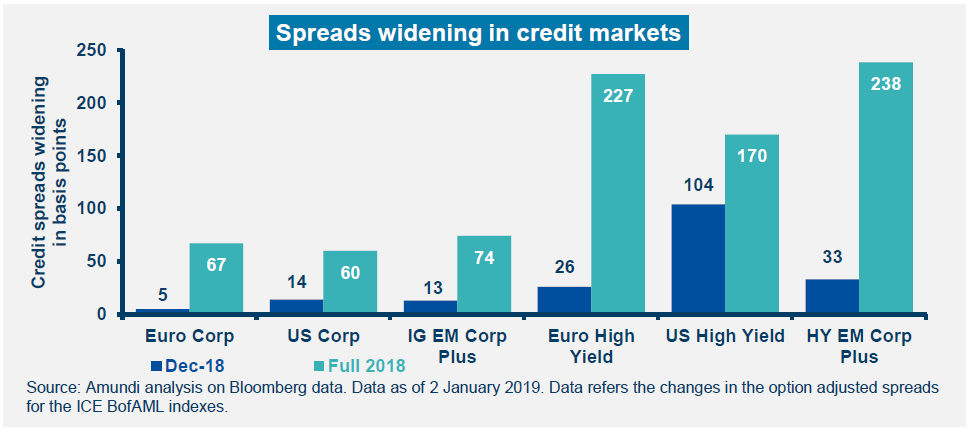 Equity: Sustainability of earnings in focus
Contributing Authors
Alexandre Drabowicz
Deputy Head of Equity, Amundi

Yerlan Syzdykov
Head of Emerging Markets,
Amundi

Ken Taubes
Chief Investment Officer, US,
Amundi Pioneer
Overall assessment
Equity markets have experienced a broad-based recovery since the start of the year, after the turbulent December. Going forward, the outlook for global equities appears uncertain, due to the international economic slowdown, political uncertainties in Europe, and trade tensions. However, the asset class remains attractive as risk premia are historically high. Selection will be the name of the game, with a strong focus on sustainability of earnings growth, valuations and appealing dividend yields as a way to remain defensive in this phase.
Europe
In Europe, while the slowdown is materialising, growth forecasts remain relatively resilient, and we see the general de-rating as a source of opportunity in the market. Our focus is bottom up and we see areas of value emerging following the 2018 dislocation. We maintain a generally balanced top down stance with limited skews. On cyclicals, some names have excessively repriced, Industrials in particular offer good opportunities both in the quality cyclical and in the quality defensive compartments. We prefer this cyclical exposure to other areas such as materials. Banks look extremely cheap, but we prefer exposure to the higher quality names in the core over the peripheral banks at this stage. On defensives, in contrast, some areas have become relatively expensive. We are less positive on Consumer Staples given valuations that appear complacent and given the disruption that several of the staple companies face, which expands the range of outcomes (uncertainty) in our forecast. Healthcare among the defensives have more compelling risk reward in our view.
US
Assuming no major downward revisions in earnings – which does not seem likely at this point – the US market continues to be supported. Volatility will likely remain high as the market navigates through negative earning revisions. The market has already digested earning revisions in certain industries, such as energy and capital goods, but it seems likely that there is still room for further revisions, even in those industries, and in financials. We have increased our preference for the big tech/FAANG sector, which now offers more reasonable valuations and the most durable business model in the US economy. In general, this should be a good environment for active management. Valuation superiority plus avoiding the worst negative revisions, particularly in cases where they're not priced in, should be rewarded on a relative basis.
Emerging markets: improving outlook
We are more constructive on EM equity as we expect the fundamental picture to stabilise and improve in 2019, and the growth premium vs DM could start widening again from the second half of the year. EM equities look cheap on a relative basis and a global investor underweight in EM provides strong technical support. Despite this positive outlook, we continue to monitor risks linked to the direction of the US dollar, the uncertainty around trade negotiations, and the sustainability of China's growth. At a regional level we have favour countries with positive growth outlooks (China, India) and very attractive valuations (namely, Russia), while we are more defensive on countries with expensive valuations (Chile, Thailand) and would avoid countries with high political risk (namely, Turkey).
Important Information
Unless otherwise stated, all information contained in this document is from Amundi Pioneer Asset Management ("Amundi Pioneer") and is as of January 23, 2019.
The views expressed regarding market and economic trends are those of the authors and not necessarily Amundi Pioneer, and are subject to change at any time. These views should not be relied upon as investment advice, as securities recommendations, or as an indication of trading on behalf of any Amundi Pioneer product. There is no guarantee that market forecasts discussed will be realized or that these trends will continue. These views are subject to change at any time based on market and other conditions and there can be no assurances that countries, markets or sectors will perform as expected. Investments involve certain risks, including political and currency risks. Investment return and principal value may go down as well as up and could result in the loss of all capital invested.
This material does not constitute an offer to buy or a solicitation to sell any units of any investment fund or any service.
Date of First Use: January 23, 2019.