Gauging the US COVID-19 Recession
Gauging the US COVID-19 Recession
Thursday 09 April 2020
Investment Talks, Perspectives, Compass Market Insights
Contributing Authors
Paresh Upadhyaya
Director of Currency Strategy, US
Portfolio Manager
To evaluate the scope of the US recession and gauge the rebound, we are examining new types of data that provide a window into consumer and business behavior.
Our base case is for a U-shaped recovery led by manufacturing, with government spending as a key contributor to GDP.
We expect the US to come out of its sudden and deep recession in Q3 if COVID-19 cases reach their peak in late April/early May and the economy begins to open up soon after.
The US has entered a recession unlike any we have seen in modern history. It was not caused by surging oil prices, an overheating economy or the causes of the last three recessions that lead to major dislocations in asset prices.
The COVID-19 crisis, the first pandemic since the Spanish Flu of 1917-18, triggered this recession. The US economic recovery will be tied closely to our ability to "flatten the curve" and manage the health impact of the virus, as well as to revive economic activity.This article examines two potential scenarios by which the US might emerge from the current lockdown and the type of recovery we might see, whether it's a U-shape, V-shape or hockey stick. The article also highlights macroeconomic guideposts that will help us determine the breadth and severity of this recession and identify signs of potential improvement.We do this by looking at traditional macroeconomic variables and non-traditional "Big Data," which we define as a large collection of data sets that can be analyzed to reveal patterns and/or trends.The social distancing and quarantining measures to tackle the pandemic crisis have effectively shut down the economy. According to the Bloomberg-weighted consensus, the US economy is forecast to decline -3.7% in Q1, then plunge -24.0% in Q2 before bouncing back in the second half of the year.
Suffice it to say, the economy is on target to suffer its worst recession since the Great Depression. With 94% of the economy under quarantine, we look at two scenarios for US emergence from this Pandemic Crisis.
Where do we go from here?
The first scenario is one in which COVID-19 cases peak in late April/early May, and people gradually return to work in staggered phases from May into Q3. We do not assume a breakthrough in viral treatments. We expect the service sector to lag manufacturing.
The second scenario assumes a second wave of infections that cause a partial lockdown in affected parts of the country. The second wave could occur relatively soon sometime in the summer or in the autumn as we approach winter.
Scenario 1: COVID-19 Cases Peak, Economy Begins Recovery
We are in unchartered territory, so we are looking to countries that have seen a sharp rise in infections followed by a nationwide lockdown and a peaking in new cases. There are two countries we will follow to glean clues how the US recovery might unfold, China and Italy.
China was the first nation to experience the COVID-19 virus. However, given the draconian measures implemented by the government, it's an imperfect comparison. Italy is a better fit for the US given the explosive pickup in infection cases and the initial uneven response to the virus. Italy is at least two weeks ahead of the US in reaching a peak in infection cases and starting to roll over.
Consumer confidence surveys in China and Italy were both gloomy, suggesting a prolonged U-shape recovery in consumption. A McKinsey consumer confidence survey of Italian consumers revealed spending expectations are lower across all categories except grocery and entertainment at home. Dining out and travel were particularly hard hit.
A Morgan Stanley/Alpha survey of Chinese consumers reported rates of visits to shopping malls and restaurants and participation in leisure activities during the first week of April were only 62%, 36% and 25%, respectively. This is particularly notable since Chinese infection cases peaked in early February.
If activity in Italy and China provides a window to what is in store for in the US, then it looks like a long road to recovery for US personal consumption. The manufacturing sector is likely to lead the recovery as supply chains are restored in China and more broadly in Asia.
With the US economy opening up, the impact from the monetary and fiscal stimulus will begin to have a stronger impact. Government spending will be the largest contributor to GDP, as spending as a percentage of GDP rises to its highest level since World War 2, at 33%. We should see a modest rebound in fixed investment and exports.
Scenario 2: Second Wave of Virus Prolongs Recovery
In the second scenario, an unexpected return of the virus deals a crushing blow to consumer confidence that was already fragile, but prevents any material rebound in consumption. The hit to growth would be smaller compared to what is projected for Q2, but the risks of a contraction are high. Grocery, pharmaceutical, deliveries and online streaming continue to provide growth in the economy.
There would be sporadic activity on the industrial side of the economy. The uncertainty of the Pandemic crisis will hurt fixed investment and exports. Government spending will continue to drive growth as we continue to see more fiscal stimulus packages.
What Type of Recovery: U-Shape, V-Shape, Hockey Stick
There are three potential scenarios for a US economic recovery: U-shape, V-shape, or hockey stick. Our base case scenario is a U-shaped recovery. Given the total collapse in demand, it will take time for the economy to recover from this dramatic shock to the economy. The dynamics of this recession suggest a demand shock rather than a supply shock, which does not favor a V-shaped or hockey stick recovery.
A supply chain disruption can cause a short-term hit to output, but once the disruption is restored, pent-up demand should lead to a quick bounce-back in activity. However, demand destruction across so many sectors -- dining, accommodation, travel, energy, manufacturing, services, small businesses -- will not lead to a rapid bounce-back because that lost demand cannot be made up. Furthermore, improvement may occur gradually as new health measures are adopted, allowing more normal activity to resume.
To help us determine the type of recovery, we are monitoring traditional macroeconomic measures and newer Big Data economic indicators.
Traditional Measures Confirm Deep Recession
We are monitoring the following the traditional macroeconomic factors in our dashboard (Table 1).
Jobless Claims. We believe jobless claims will be one of the best measures to determine the severity of the recession. Jobless claims rose by an all-time record of 6.65 million on March 28, beating the previous record of 3.3 million on March 21. The surge in jobless claims over the last two weeks tentatively suggests the US already has an unemployment rate of 10.4%. If we get jobless claims of 5 million (consensus estimate) on April 9, the unemployment rate could be 13.4%. This compares with the current unemployment rate of 4.4%. It is clear the labor market is set to deteriorate sharply in Q2 to the highest level in the post-World War 2 era.
Retail Sales. Johnson Redbook chain store sales will tell us the health of the consumer. This weekly series represents over 80% of the official retail sales collected by the US Department of Commerce. There is a sharp divergence in sales, with department store sales plummeting 10% yoy, while discount store sales surged 13.8% yoy on March 28. Overall, chain store sales growth remained healthy at 6.3% yoy as of March 28, but there are signs of slowing. So far, initial strength in sales is benefitting from stockpiling that has been taking place. As the stockpiling abates, retail sales should begin to slow dramatically in the coming weeks.
Consumer Comfort Index. Bloomberg Weekly Consumer Comfort Index gives us signs of the state of the US consumer. This index includes three components: the state of the national economy; the state of personal finance; and good/bad time to buy. This index has fallen from a near record high of 67.3 on January 26 to 56.3 on March 29. The index is now on a sharp downward trend. In addition, the other benchmark consumer confidence indicators (University of Michigan and Conference Board) are both off their peaks, confirming this.
Key Business Indicators. The ISM Manufacturing Index is probably the strongest coincident indicator of the manufacturing sector where a sustained number below 48 is an indication of a recession. (Levels below 50 indicate contraction.) During the Global Financial Crisis in 2007-08, ISM manufacturing collapsed to 34.5, but did not stay long at that deeply depressed level. ISM manufacturing contracted in March at 49.1. The more important ISM Nonmanufacturing Index, which measures employment trends, prices and new orders in non-manufacturing industries, fell from 57.3 in February to 52.5 in March. Given the shutdown, the service sector will fall sharply in April, most likely below the 2008 low of 37.8.
Big Data Indicate Severe Contraction
We are now adding Big Data or Alternative Data to our dashboard (Table 1).
Service Sector Data. Many parts of the service sector have effectively been shut down due to social distancing and the lockdown we have seen in most parts of the country. We are monitoring dining out, travel and box office sales. Restaurant reservations are down 100% yoy, according to data from Open Table. Box office sales are down 100% during the last two years compared to the same period a year ago, according to Boxofficemojo.com. These sectors are effectively closed. What has helped cushion some of the blow to the entertainment sector has been online streaming, which has surged.
Travel Data. The travel industry has been crushed as well, with TSA checkpoint travel numbers collapsing from approximately 2.5 million a year ago to just 135,000 during the last week in March. These declines are unprecedented, so difficult to compare with prior cycles since there has been no period when an entire sector is shut down. The speed and breadth of recoveries in these sectors will be key to the US economic recovery as the COVID-19 crisis is contained.
Business Activity Data. Local business activity has collapsed in an unprecedented manner. Businesses open, hours worked, and employees working have declined between 50%-60% yoy during the last week in March, according to joinhomebase.com.
Online Search Data. We are monitoring Google searches for "recession" and "unemployment". Searches are well above 2008 levels, most notably unemployment. Online searches for recession and unemployment hit a peak of 100, an index where 100 reflects peak interest, during the last week in March, a level not attained during the GFC. A decline back to 20 could signal signs the economy is back on the mend.
Rail Traffic. Rail traffic is down over 10% yoy during the last week in March, according to Bloomberg. That level is lower than the GFC but higher than the recent trough in 2009 when rail traffic declined just over 20% yoy.
Energy Data. Coal output has fallen 16.9% during the last 4 weeks, according to Bloomberg. Significantly, total gas production supplied plummeted 27.1% yoy on March 28, the most since the inception of the series in 2004, according to Bloomberg.
Online Price Data. We are monitoring internet prices collected by State Street's PriceStats as another way to gauge demand. The early indication is that internet prices, a good proxy for the Consumer Price Index, have rolled over as demand growth has fallen from a high of nearly 2.5% in Q4 2019 to approximately 1% in the last week of March.
Table 1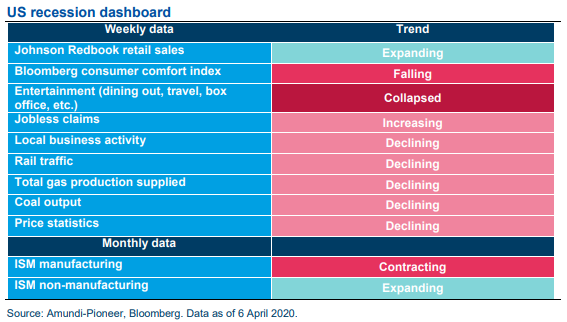 Conclusion
We expect the US to come out of its sudden and deep recession in Q3, if the peak in COVID-19 cases is reached in late April/early May, with the economy opening up and beginning a U-shaped recovery soon after. We will monitor on a regular basis our dashboard of economic indicators to gauge the severity and breadth of the recession.
Important Information
Unless otherwise stated, all information contained in this document is from Amundi Pioneer Asset Management and is as of April 7, 2020. The views expressed regarding market and economic trends are those of the author and not necessarily Amundi Pioneer Asset Management, and are subject to change at any time based on market and other conditions and there can be no assurances that countries, markets or sectors will perform as expected. These views should not be relied upon as investment advice, as securities recommendations, or as an indication of trading on behalf of any Amundi Pioneer Asset Management product. There is no guarantee that market forecasts discussed will be realized or that these trends will continue. These views are subject to change at any time based on market and other conditions and there can be no assurances that countries, markets or sectors will perform as expected. Investments involve certain risks, including political and currency risks. Investment return and principal value may go down as well as up and could result in the loss of all capital invested. This material does not constitute an offer to buy or a solicitation to sell any units of any investment fund or any services.