2020 Scenarios: What Could Disrupt Rising Markets?
2020 Scenarios: What Could Disrupt Rising Markets?
Wednesday 15 January 2020
Investment Talks, Perspectives, Compass Market Insights
Download the January 2020 Monthly Market Insights
Contributing Authors
Paresh Upadhyaya
Director of Currency Strategy, US
Portfolio Manager

Christine Todd
Head of Fixed Income, US

Marco Pirondini
Head of Equities, US
Portfolio Manager
The global economy has been decelerating since 2018, but the 2019 global easing cycle helped lay the seed for a modest global recovery in 2020.
We see a cautious but constructive investment climate for 2020, but a number of macro, geopolitical and political factors could disrupt the recovery of global growth.
In this issue, we examine seven potential disruptors.
While 2018 was a year to forget, as most financial asset prices performed poorly, 2019 was the mirror opposite. Every major asset class returned positive performance, with the lone exception of Euro cash, which returned -0.3% in US Dollar terms. How will 2020 do? Here we examine seven key macro, geopolitical and political issues that are likely to affect US financial markets in 2020.
1. Global Economy
Will the global economy mount a turnaround? We believe the answer is yes, but it will be a fragile turnaround. The global economy has been decelerating since 2018. World central banks have responded with easing monetary policy, more quantitative easing (QE)
and other stimulatory measures. In some cases, governments have embarked on modest, easier fiscal policy. These actions should ensure downside growth risks are indeed tail risks. We forecast global growth will remain unchanged at 3.2% in 2020, versus 2019, with developed market growth slowing by 0.3% to 1.4%, but emerging markets (EM) growth rebounding by 0.2% to 4.4%.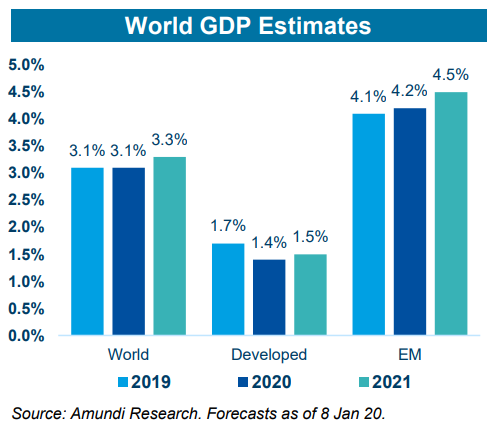 2. US Economy
Will the economy slow further from 2019? The answer is yes. The Federal Reserve's mid-cycle rate adjustment largely eliminated recession worries, and this is supported by a re-steepening of the yield curve from its previously inverted state. However, the yield curve remains largely flat as the market remains deeply skeptical of an acceleration in economic activity this year. We project the economy will slow from 2.3% in 2019 to 1.7% in 2020, led by a modest cooling in personal consumption.
The Achilles heel of the US economy remains fixed investment. Continued uncertainty over US trade policy and a likely volatile Presidential election will act as a dampener. However, if there is a risk to our forecast, it is to the upside if global growth mounts a stronger recovery and easier financial conditions boost growth during H2 2020.
3. Trade Tensions
Will trade uncertainty disappear altogether? Our answer is no, but we expect a reduction in tensions. We do not expect further escalation in trade tariffs with China, as Trump will not want any collateral damage to the economy or financial markets ahead of the elections. Outstanding trade issues with Canada and Mexico have been settled with the December 19 passage of USMCA.
However, we expect an escalation in trade tensions with Europe and perhaps Japan. Trade tensions may focus on the size of the German trade surplus with the US. In addition, differences remain in areas such as government procurement, digital trade, agriculture and the auto sector, among others.
4. Global Central Banks
Will global central banks continue to ease in 2020? The answer is mostly no. We believe developed central banks are largely done easing, but EM central banks will be at the tail end of its easing cycle. While markets remain conflicted, we do not expect further rate cuts by the Fed. We do not expect any more rate cuts by the ECB. However, the hurdle remains high for rate hikes, but low for rate cuts, should growth surprise to the downside.
5. US Elections
Will the elections inject volatility to financial markets? Elections are widely mentioned as a source of volatility to markets but rarely do they have a sustained impact. Will this time be different? The answer is: it depends. Markets are slightly more optimistic on a Trump reelection compared to polls. The political betting site, Predictit, recently priced in a 50-50% probability of a Trump re-election, compared with the RealClear Politics poll of polls that show Trump behind versus the Democratic frontrunner Joe Biden by nearly 5%. Neither scenario is rattling financial markets. However, depending on whom the Democrats nominate, the uncertainty over those policies could upset markets. While well intentioned, markets will be most concerned over the cost and implementation of policies espoused by populist Democratic candidates like Sanders or Warren. Nomination of an establishment democratic candidate will have less impact on markets.
6. Nonfinancial Corporate Debt
Will the significant buildup in corporate debt lead to risk aversion? Our answer is probably not, but we need to monitor this closely. A sharp rise in interest rates or a material slowdown in growth to recession would increase risks of default and become a worry for markets. Corporate debt has surged from 50% of GDP in 1981 to around 74% in 2018 – a record high. Many analysts believe higher distress in nonfinancial corporate leverage could lead to a recession, but not be the cause of a systemic financial crisis.
7. Geopolitical woes
Will geopolitical flare-ups cause volatility in markets? The answer is yes, but unlikely on a sustained basis. Iran, North Korea, China and Russia will be the key sources of geopolitical market risk. The recent escalation and subsequent de-escalation of the Iran incident is a case in point.
Global Implications
The 2019 global easing cycle helped lay the seeds for a modest global recovery in 2020 and probably extinguished any recession risks. The likely signing of the Phase 1 trade deal between US and China signals the intent of de-escalating trade tensions between the two nations. A closely fought presidential election in the US should ensure that any potential geopolitical risk event emanating from the US is likely to be a contained affair. After examining the key macro, geopolitical and political questions that will affect US financial markets this year, we think the environment supports a cautious but constructive investment climate for 2020, compared with 2019's year to remember.
Important Information
Unless otherwise stated, all information contained in this document is from Amundi Pioneer Asset Management ("Amundi Pioneer") and is as of January 13, 2020.
The views expressed regarding market and economic trends are those of the authors and not necessarily Amundi Pioneer, and are subject to change at any time. These views should not be relied upon as investment advice, as securities recommendations, or as an indication of trading on behalf of any Amundi Pioneer product. There is no guarantee that market forecasts discussed will be realized or that these trends will continue. These views are subject to change at any time based on market and other conditions and there can be no assurances that countries, markets or sectors will perform as expected. Investments involve certain risks, including political and currency risks. Investment return and principal value may go down as well as up and could result in the loss of all capital invested.
This material does not constitute an offer to buy or a solicitation to sell any units of any investment fund or any service.
Date of first use: January 13, 2020